On our last game day, March 29, we had 25 or more kids out and several parents (moms) who like to play as well.  There was a soccer game going on which took up most of the field so we just had a little Fiesta to celebrate the end of season.
One of our newest coaching staff acquisitions, Luis Hernandez said he would like to continue with some games over the next few months and he offered to store the equipment at his mother's house about 4 blocks from the ball park so we took the equipment there and left it in h is care,
Luis is a young man who loves the game, and has coached young kids at ball before and would get other local people to help him out.
Coaching Staff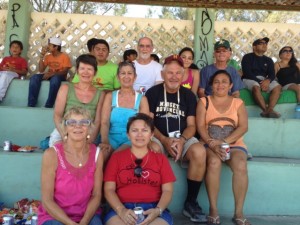 Front row: Brooke, Irene , Second row: Julie, Lorraine, Lorraine , Dennis, Carmen, Back row: Luis,  Austin, Irene's daughter, Don .
Missing: Jean, Karl, Dianna, Paul, Scott, Keith and Vic both out with injuries!
See you next year!!