Wow the spirit of giving is alive and well in Chicxulub and surrounding areas.  We have been receiving donations of time and products for the Christmas hamper preparation.
Andrea, from the US Consulate and her staff made a very generous donation to the food hamper project.  How wonderful to be able to give some treats at this time of year.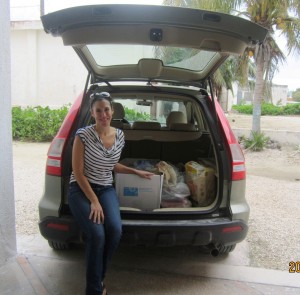 And then there are all the elves who give their time to organize, pack and hand out the actual hampers.  This is no small task with 90 families on the list.
First have a look at all the donations for the hampers.
Then, there were the elves who wrapped for the children, Santa and the moms and dads.
Next were the days of putting the hampers together.
Then came the actual prep for the depensas and hampers.  There was a large group who came to Bamboo Beach to help organize for the 15th.
The actual despensa day when the families received their food and hampers, dawned as a cloudy, windy day but the atmosphere at Bamboo Beach was anything but grey.  Everyone seemed to be happy to be there and the clients were in good form.  The sun finally came out and that made the morning even better.  Enjoy the day with us!
Santa and his group provided a healthy dose of Christmas cheer to the children in the village at the party, held Dec.22nd at Bamboo Beach and as usual it was a success.  Santa was in great form and the children were excited to see him.  Santa ho-hoed over 300 children who came to see him.  With a great team of elves the party went off without a hitch!  Have a look..