Following our usual pattern, we welcomed two families here this month.  The others I will report on next month as they both arrived at month-end.
Connie and Eric from Indiana with their girls, Samantha and Morgan came in early October and we began in an unusual way.  We met up with them at the Casa de Cultura and as we were chatting a reporter Alfredo, from a local paper Por Esto approached us with questions.
I have attached the resulting interview that appeared in the paper the very next day.
Turismo practica escultismo en su paseo por Chicxulub Puerto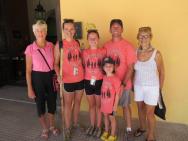 PROGRESO, Yucatán, 4 de octubre.- En esta jornada de crucero llegó un tipo de turista muy diferente al habitual, amante de la naturaleza, de los espacios al aire libre y ansioso de conocer la cultura de cada población.
Todo esto recae en la presencia de una familia norteamericana que llegó en el crucero Triumph, perteneciente al grupo Girls Scouts, proveniente de Indiana.
Así que se dio un arribo diferente de turistas, que no se entusiasman en ir a la playa para asolearse o nadar, sino que buscan otro tipo de atractivos, más naturales, reconfortantes, y si es al aire libre, mejor.
En plática con Connie Bell, que se ostentó como jefa del Girls Scouts, de los grupos Pennyroyal y Lincoln, y se identifican con camisetas de un solo color llamativas, expresó que su objetivo es ir de visita a la comisaría de Chicxulub Puerto, donde se explica científicamente que cayó el meteorito, para saber y conocer más de este suceso, aprovechando que están de vista en esta ciudad.
Se sintió contenta de pisar por primera vez este puerto y decidió venir con su familia, siendo sus hijos Samantha, de 6 años, y Morgan de 14, y su esposo Erick Bell.
Todos son originarios de una comunidad llamada Lanesville, Indiana, la cual sólo tiene 500 habitantes, donde se practica mucho el escultismo.
Para esto se contactó en la Casa de la Cultura con dos residentes canadienses, Sharon Ingelson y Kay Macauley, para que les sirvan de guía en este hermoso paseo en Chicxulub Puerto que no olvidarán y recomendarán en su lugar de origen.
(Alfredo Canto May)
Alfredo was surprised to meet people who were interested in discovering our wee piece of heaven and making a difference.  As we visited the school and walked the streets there were many positive comments about the visit.
Then Dana and her husband visited from and spent their wedding anniversary in the Port.