Cruise ship visits continue to happen on a less frequent interval but the folks who want to make a difference in the lives of our kids continue to do so.
We are now meeting the people at the Casa de Cultura to avoid conflict with the staff from Autoprogreso and taxistas.
This change in venue continues to work well.
In December,Nancy returned from Alabama for her 4th visit bringing school supplies and pop tabs for Socorro and her tab purses.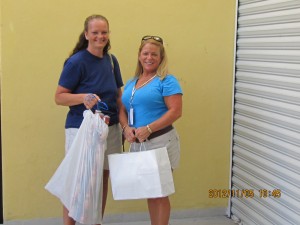 Then it was Monna and family who came back for their second visit and donated backpacks, school supplies and yarn for our knitters and crocheters.