Mary and her daughter Rachel visited in June from Oklahoma.  Mom has been here before on the ship but enjoyed a tour around Chicxulub with Kay.  The donations will go a long way to helping the children and some will be used during the summer workshops.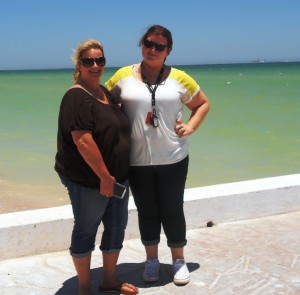 In August there was a visit from Michael and his family from Tennessee.   The school year began August 31st so an active trip to the school did not occur.
However, Kay and the team made their visit a fun occasion.  There was the walking tour of the village followed by a "magic show" at Mamma Mias were 38 folks from the village enjoyed Michael's skills of creating balloon animals.
From Kay "YES all went very well yesterday with the kids and Michael , Heather, Rebecca,  Daniel and baby boy.  The magic show was well received as well as the happy b'day in Spanish & English.   I stopped later to tell Cero (Mamma Mias) how pleased I was and a thank you.  He was very pleased & said it would be nice to have more of that type of event.   Heather's birthday cake was great & she was surprised and said it was something she will never forget."