And what a day it was!
A very successful day was enjoyed by many folks who watched the parade of fashions, participated in the Rainbow draw and ate and drank heartily.
Comments from supporters: "I was touched to see so many people away from home, all together to make a "micro-society" and participating to an activity where the profit goes for the poor families."
"I enjoyed seeing the models having fun in an activity usually reserved for young women."
"The botanas were excellent."
Locale:
D'MarEvent Salon was the perfect setting for this year's fashion show.  Owner Madie is a wonderful person to know and work with.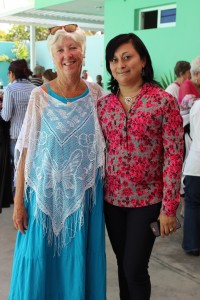 Models:
Volunteers:
Without the wonderful group of volunteers that worked effortlessly to make the fashion show a success, this would not be possible.  I thank you all.
Rainbow Auction:
Again, the community stepped up to make the Rainbow Auction a fun audition to the event.  Volunteers wrapped and styled the gifts to look lovely.  Thank you!
The grand total, raised by all of you for the Chicxulub Food Bank was 26,674 pesos.
THANK YOU