Join us for bingo in Jan-Feb and maybe March.  Even though my "Bingo Queen" Karen won't be here this winter she has indicated we need to go ahead without her.  Her "court members" have graciously agreed to act in her stead.
The team is Jackie, Kathy, Pauline, Bev and Lorraine.  Come prepared to have fun and spend some money and maybe get lucky!
Bingos this year will be held at La Antigua Restaurant in the palapa in Progreso.  La Antigua is at the corner of 60 and 25 in a beautiful refurbished home.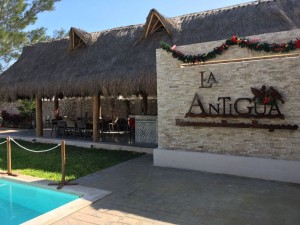 Come see us there.  Remember the beans and rice for the dispensas.
First date is Wednesday January 11th at 3PM.
Second date is Wednesday January 25th at 3PM.
Third date is Wednesday February 8th at 3PM.
Fourth date is Wednesday February 22nd at 3PM.
Fifth date is Wednesday March 8th at 3PM.
Sixth date is Wednesday March 22nd at 3PM.
Mark your calendars..this is the first time we are doing six bingos at popular request so do your best to support the Food Bank and come spend some fun time with us.
See you there.