Many of you have used Carlos' service before and know he is reliable and responsible.  This season he has his own newer van 2014 Nissan,  to manage his business.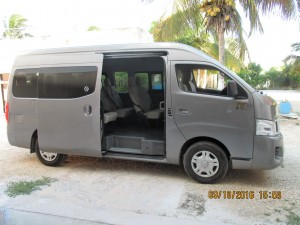 Carlos' Service
Carlos is offering pick up and drop off service at both the Cancun airport and Merida.  Maximum number of persons in the van is 9 people due to suitcases (usually 2 each) .  He also has a car for groups of 2-4 but again maximum pickup at the Merida/Cancun airport is 2 people with suitcases.
Cancun Airport    Van  4800 pesos and  Car 3800
Merida  Airport    Van 750 pesos and Car 600 pesos
Carlos does day trips and overnights on request.
Contact information: carlosperez250579@hotmail.com or cel is 999-1-52-49-31 and uses whats app and Face Book at carlosperezmoreno
Carlos assures a 3 day turnaround to respond.