Carlos' Service
Carlos is offering pick up and drop off service at both the Cancun airport and Merida.  Maximum number of persons will be 8 people due to suitcases (usually 2 each) .  He also has a car for groups of 2-4 but again maximum pickup at the Merida airport is 2 people with suitcases.
Large Van Cancun 4800 pesos and Cancun Airport Car 3800
Merida Airport Van 650 pesos and Car 550 pesos.
Large Van:
Cancun Airport 4800 pesos and Merida Airport 650 pesos

Car:
 Cancun Airport Car 3800 and Merida Airport  550 pesos.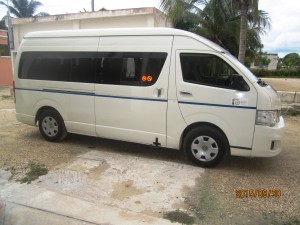 Contact info  carlosperez250579@hotmail.com