I know, I know it is way to early to think about winter but I was focused on clearing out my garage, the storage area for now!
We got the toiletries sorted and counted and the last of the boxes stored in Chicxulub.  It feels so good to have the majority of the work done so soon into the season.  For all of Santa's helpers just think how smoothly the packaging will go!
I have to tell you that Kay, who has been a big help keeps me going to get the tasks done.
Kay is always positive and raring to go and we get things done!
Thanks so much.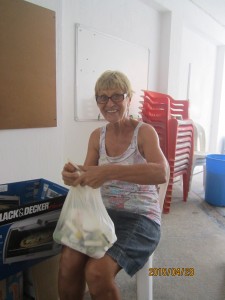 Now we are ready for the next family competition as well.  This winter there will be an open contest to families that will focus on the history of Chicxulub Puerto.
I am in search of photos and stories about the evolution of Chicxulub.
The family or person who comes up with the most creative combination of photos and stories will win this fancy mode of transportation.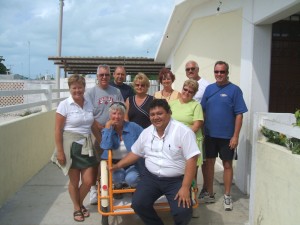 This triciclo was given to the Food Bank by a group of supporters living in Uaymatun during the winter of 2008.  At that time it was used by the moms to facilitate the Lunch Program at Andres Quintana Roo, afternoon session.  The program has long since ended and the bike had been retired at the school.  Berri and company rescued it, added air to the tires and Don retrieved it from the school, seven years later.
Now this triciclo will be  brought back to life over the summer.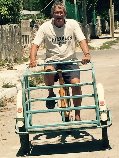 All Don needed to bring it home was a clear path and extra water!!
Watch for more exciting news about the competition and the history of Chicxulub.  Thanks Don.