Things are certainly quieter at San Joachin but there is still activity going on.
The final day of exercise group and the men's work-group was bittersweet.  Everyone was enjoying the visits until the end when the volunteers said their goodbyes.
When I go back to drop something off, the residents ask if my friends are gone and I say yes but they will be back in November.
Donation drop-off…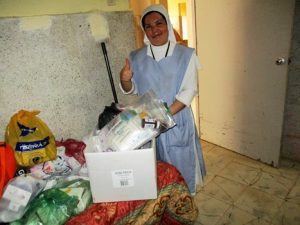 Grounds-keeping happening:  working in the courtyard.
Thanks to one and all for your contributions throughout the season and year round.