Tuesday Dec 12, we started our new season at the Nursing Home.
 Activities included getting materials and tools organized, checking out jobs that we can do this winter, and some general cleanup in the courtyards.
This year a youth group, Jeun'Espoir, from Quebec will be joining us for a week in January. They will be volunteering in several locations in the community, but in the Home they will be constructing new dressers for the men's dorm. Bob built a prototype over the summer, and commissioned a local carpenter to build one here.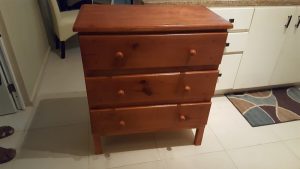 The carpenter has agreed to purchase and cut all the materials, as well as demonstrate to the youth group how they should be assembled. If there are materials left over after the youths have left, our group will complete the remaining dressers.
This year our hopes are to construct ten dressers, to paint and remove the rust from many of the older beds, replace the window frames on some of the rotten windows, continue with painting rooms as the Madre sees fit, and complete some outside chores which could include: yard maintenance, garbage cleanup, plumbing issues, various repairs, and possibly a reorganization of the garbage area.
Last year many of you donated money for materials, like paint, plumbing parts, screens, and tools, etc. If you are able to make a contribution again this year, it would be greatly appreciated.
If you're not here till January, see you then. Come and enjoy the camaraderie that this working group shares.
Exercise Group
Is in full swing every Tues and Thurs at 10 AM.
Time is spent playing games and every game focuses on using areas of the body that tend to sit idle.  We have so much fun that we forget it is exercise!
Irenee is a resident who is doing embroidery work and we are selling it at the Muelle Market so she can buy meds as needed. If interested see me.
Leslie and Barb visited the nursing home to drop of special treats for the residents.  Their visit was enjoyed…