From Duncan and the mens' group
The dressers the youth
group
worked on are finished. The madre will be distributing them to the residents soon. The additional monies donated by the Jeun'Espoir students will be used to build ten more dressers, for the women's dorm. However, we are going to have them constructed by the carpenters who helped the youth group, rather than try to build them all ourselves. This will be a lot easier and not much more expensive.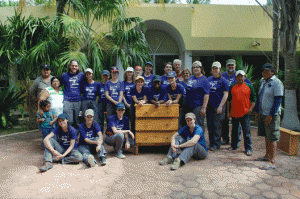 For the next few weeks, our
group
should concentrate on painting the metal beds. There are 14 that need sanding and 2 coats of paint. We have nearly finished two. If we can get six guys or more on this project each week, it's possible to have them all completed in about 8 weeks. If not, we'll just have to carry some over to next season.
Painting the back courtyard area, fan blade renewal, and other small repairs remain ongoing.
Thanks for your support,  Dunc
Exercise Group
Carnaval