Report on  the Trip to the Parque Cientifico  4/27/2015
We spent February travelling to the Parque Cientifico with grades 4,5 and 6 so they could learn about the Chicxulub  Crater and so much more.
In total 100 children and volunteers and a few parents visited this place.
We were welcomed by the Government representative and staff of the Parque.
We toured the Botanical Garden and saw the wonderful expo on The Chicxulub Crater and many other extras that we all enjoyed.
The most interest was shown for the many animals on display (Topic:Biodiversidad) the overall site and the garden.
Once back home the children were asked to do a display about the theme they were most inspired by and in total we had 17 displays.  That is a total of 26.5% from the children.
It will be  interesting to see if the participation will change as we do more of these outings.
Participants are:
4o. grado AQR –  Axel Góngora Collí, Roberto Esquivel Aguilar, Camila Argaez Pech
5o. grado AQR – Sinaí Ek Cahuich, Alexandra Mézquita Flores, Javier Iván Dzul Figueroa, Jafet Osorio Chuc, Johnatan David Chuc Aranda, Ramsés Cárdenas Saenz
6o. grado AQR – Juan Diego Tuc Puc, Kevin Uicab Ruiz
4o. grado BJG – Julissa  Chablé Dzilb, David Chan Caballero, Gabriela Pech Chan
5o. grado BJG – Suleyka Cituk Moo,
6o. grado BJG – Moisés Mukul
Some of you will recognize names from your English classes.
Grand winner is Jonathon David Chuc Aranda – Grade 5  Andres Quintana Roo
2nd place is: Gabriela Pech Chan –Grade 4 Benito Juarez
3rd place is: Moises Mukul – Grade 6 Benito Juarez
All of the children who participated in the 2nd part of the competition received a bright coloured bag stuffed with art supplies.  These bags were donated by a group of women who visited the area from the cruise ship in  September of 2014.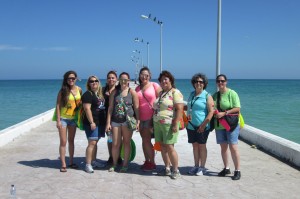 What an exciting day it was.  In Mexico, April 30th  is Children's Day so it was chosen to celebrate the works of the children who participated in the tour.
Following the assessment of and scoring of the seventeen dioramas,  the group decided the winners and honorable mentions.  All participants receive an award.
April 30th was a cloudy, coolish day with threats of rain but the children at both Benito Juarez and Andres Quintana Roo showed nothing but smiles and enthusiasm for their day to celebrate!