Welcome home, early snow birds.
We open Tuesday 19 November for the first Westjetters. Hours 9 am to 9pm -Tuesday to Saturday.
If you're driving from Cancun and running late phone ahead
and we will keep the kitchen open.
Reservations not needed but please call ahead for groups of 6 or more.
Pizza oven fired up from 5.30 pm.
Musica every Wednesday and Friday from 6 pm. Javier will get you up dancing.
Thanksgiving Dinner 28 November 6 pm
Turkey gently roasted in the wood oven, plus Conchita's
delicious sweet potatoes, salads, cranberries and gravy.
Carrot Cake and Coffee 295 pesos
We have a new stock of wine mmmmm!
New phone 969 103 8775 landline
email asteroid.chix@hotmail.com
Chicxulub Crater Dinosaur Ts (special gifts)
Please bring T shirts so we can print for your children and grandchildren….will print Dinos for 95 pesos.
Special events: birthdays, anniversaries, other happy times
We will roast a pig, lamb, or delicious mojarra blanca.
Carlos' Service
Contact: email carlosperez250579@hotmail.com
whats app 9991 52 49 31 Face Book Carlos Perez Moreno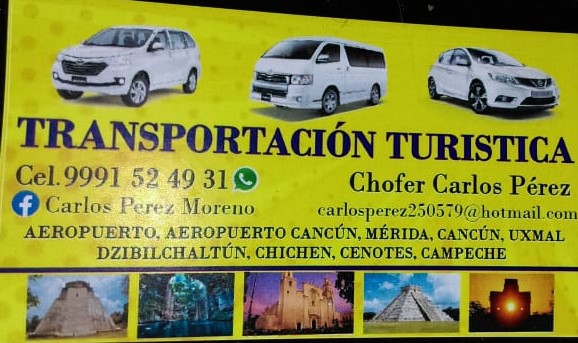 Price List from Carlos
Airport: Merida Pick up small car 700 pesos Van (max 8 people) 1200 pesos Cancun small car 3800 pesos Van (max 10 people) 5800 pesos ADO Bus Station: Altabrisa small car 400 pesos Van 700 pesos Fiesta Americana small car 500 pesos Van 750 pesos
Day trips to various ruins including lunch and cenote(s). Does not include tickets or guide. Chichen Itza small car 2000 pesos and Van 2800 pesos Uxmal small car 2000 pesos and Van 3300 pesos Dzibichaltun small car 1100 pesos and Van 1800 pesos Mayapan small car 2000 pesos and Van 2800 pesos (only transportation)