Thanks to Andrea for her continued organizing.
There isn't very much bitching going on mostly stitching. We have mostly knitters; a few crocheters and sewers; along with one doing embroidery just so she can come to be with us every week.
In January we had the most ever 16 people participating outside on my patio from 9-12. We even managed to have a few lessons aside at another table.
The work done here is mostly using up the yarn donations at the Chicxulub Foodbank for making slippers for the Alberge de Ancianos (seniors home in Progreso) or hats for the Gorro Girls of Merida. (International Women's Club in Merida have project dealing with the kids at the O'Hearn Hospital that treats Cancer kids from all over the southern part of Mexico and even neighbouring countries). One lady has been working on a 10 stitch blanket with the small bits of yarn found in the bin. This will be very useful for the Ancianos home here in Progreso. It has been a cold season this year and when they go to the exercise class most of them have hats and slippers on with a few scarves.
I have tried to get some local ladies to join us on Wednesday and they say they will come but none have ever shown up. They ask me to teach them to knit and I tell them to come over; not sure what is stopping them from showing up!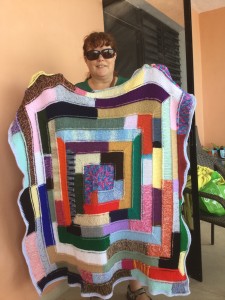 Look at what Barb made using up balls of bits….great for the ancianos.
Thanks to one and all for the baby sweaters,hats, slippers and shawls that I have received for the next Christmas hampers.