Kids were active in all the programs offered this summer.  As usual, the summer had many workshops for the children and there were ample volunteers to assist most often.  Made possible by your donations to the program throughout the year.
Fitness and Self defense offered by Erik

presented in August by Erik, a young man who wants to give back to the community.  He is an expert in Roman-Greco wrestling and is attending Progreso Tec studying Renewable Resources.  Some of the children who started the course did not continue as they found the exercise regime too difficult.  However, there is a group of committed kids and parents who continued and wish to keep going throughout the year.  Remember the raffles at the Muelle Bazaar?  Check out the mats you paid for!
First aid offered by Malu is our Forensic Studies volunteer who is also committed to making a difference in the lives of the people in Chicxulub.  Together witth her volunteers she did 2 workshops and the first aid course was enjoyed and educational. Supplies ere purchased from the raffle proceeds from the Muelle Market.
Heroes of Chicxulub offered by Carmita.  Hopefully you all know Carmita.  This wonderful volunteer makes a huge difference in the lives of people in Chicxulub.  She was amazed at how many kids knew nothing or very little about their heritage so fashioned an exercise where they had to go home and ask questions of their parents and grandparents.  Everyone had exciting information to share on their return.  This is also the first step towards our annual competition which this year is a project on old photos and stories about Chicxulub in the olden days!  Remember the village is some 500 years old so there is lots to dig up!  The kids drew family trees and pictures of what they learned.  Note the poster with our "usual" code of conduct.
Forensic Hematology offered by Malu.  This was her second workshop of the summer.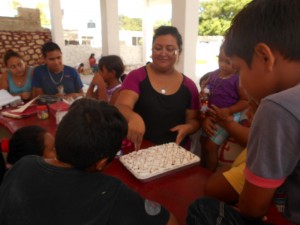 There was even time for a celebration of Malu's birthday.  Everyone enjoyed the cake.