Several groups have been very generous and helpful this season and I would like to let you know who they are.Unfortunately I do not have photos of all the groups but here are the ones I do have.
Coral Beach had a pot luck dinner and shared the profits. Konrad had alarm systems he sold to the SOBs and the proceeds went to the Food Bank.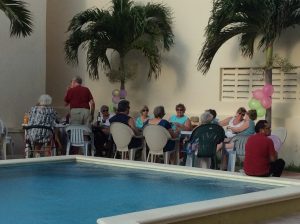 Uayamatun has been raising funds for the Food Bank for many years and it is always a delightful surprise to hear from them every season!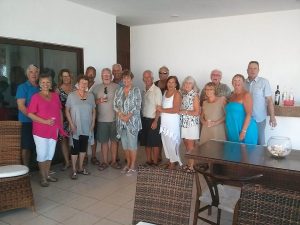 Villas del Mar folks donated the proceeds  from their Swear Jar
SOBS are camera shy  but sold alarm systems and donated the proceeds to the Food Bank.
Sit and Stitch : another season of "Sit and Stitch" formerly known as "Bitch and Stitch" went nicely.  Our group was never more than 6 people this year and not quite sure why but that didn't diminish what we managed to produce.  Several hats were made for the Cancer kiddies in Merida along with three  blankets for the seniors home in Progreso.  Several other items were knitted or crocheted for sale at the Muelle Market for the benefit of the Food Bank.  I even managed to make two more hats (bring the total so far to 47 hats in three seasons sold)in the last few weeks for a customer that the Food Bank benefited from.  
So the folks at Coral Beach have issued a challenge…….when having your happy hours or pot luck dinners raise a few pesos for the Food Bank.