Who remembers the afternoon bingo game when this big green bus parked outside Mamma Mias?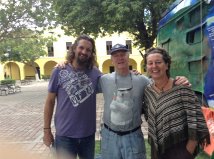 The arrival of the colourful green bus became the talk of some 40 Canadians and Americans playing a fundraiser bingo for the Chicxculub (Yucatan) Food Bank.
At intermission some went to investigate.  They found what they wanted to know printed on the side of the bus.
"We are Mati & Shanti. We left in Nov.of 2005 from the Argentinian Pantagonia for Mexico aboard "El Bicho" (strange thing or bug). This old Mercedes Benz passenger bus (was) transformed into a mobile home. Zaina (our daughter) was born during our passages through the Ecuadorian jungle in March of 2008. Our dream is to reach Alaska."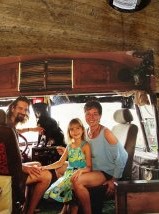 Next morning they were stationed outside the Muelle Market in Chixculub to sell their newly-published book, "El Bicho A way of life" to raise money for their new  travels.
It's a fascinating account, illustrated with more than 100 photographs taken by them, of a journey filled with adventure and a 10-year life of freedom for which many are envious.
The two have had guns pointed at their heads, have lived with indigenous natives, swam in a river full of piranhas and welcomed their baby in a jungle.
Shanti is Chantal Gorloo born in Blankenberge, Belgium. She began driving 40-ton trucks at 16 and by 18 had been named the youngest truck driver in Europe, she says.  But one day, Shanti decided she'd had enough of 'the system.' She wanted to do something she really enjoyed. And that was travel. So she sold all her possessions and headed to South America.
"I wanted to experience a life with no stress and no material bindings. A life where you can take time to enjoy a sunset, spend an evening with friends, be close to nature againband to discover new cultures."
Shanti found someone to share her dream and journey a few months after she left Buenos Airies in Nov. 2005, to head for Ushuaia, the capital of Tierra delFuego and southern most city in the world.
Mati was a taxi driver and and a photographer who took pictures of dead people for the police and a local newspaper in Trelew, a town in Pantagonia Argentina. The two met in the Valdes Peninsula, south of Buenos Airies, where Matu was camping. His curiosity about the bus led him to Shanti's open door.
A week later, they said their goodbyes. Shanti continued southwards.But they continued talking on the Internet and more than 1,000 km later, he joined her for the trip to Ushuaia.
With the onset of cold weather,they headed north on route 40, a stretch ofthen an unpaved road more than 5,000-km long and a no-man's land.
"At the beginning, we didn't visit certain places thinking we could do it later or because it wasn't on the way to Mexico. We learned it's best to do the things when they present themselves because opportunities sometimes don't come twice. Today we regret not visiting Uruguay, Paraguay and Chile," says Shanti.
At the triple border of Argentina, Paraguay and Brazil, they set up camp for the night until they heard machine guns, then quickly moved.
The couple stayed four months in southern Brazil where they experienced the Pantanal, the world's largest tropical wetland area and considered a better place to see wildlife than the Amazon.  At one point they were surrounded by hundreds of alligators which almost became their friends. "We grew more reckless to the point of grabbing them by their tails and walking next to them.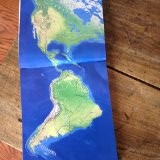 We bumped into snakes, capybaras (the largest rodents in the world) birds and insects we'd never imagined existed," says Santi.
When their savings ran out, they realized their real adventure was just starting.  "When there's no money, one has to think outside the box. We had no experience travelling without money and we weren't sure what to do, but we always trusted ourselves and above all we never lost our positive spirit," says Shanti.
They plastered a poster on the back of the bus requesting diesel or a meal. They fished for their for their their dinners and picked fruit and vegetables. They exchanged their photographs for free entry to museums.
Bolivia was a culture shock. Joyful faces in Brazil turned into sad, bleak faces,says Santi.
Tourism then was undeveloped so the couple was able to visit places without rules. Roads on a mountain range were so narrow that when buses took some curves the wheels were left in the air and the driver shouted to people what side they should move to balance the bus so it wouldn't fall off the cliff.
When they were looking for a map of Bolivia they found an elderly shopkeeper who showed them a pile of guns at the back of the shop.  "Most had the serial number filed. She advised us to take one because it would be more useful than a map," says Santi. When another customer bought a fishing pole, she had no change so she handed over a couple of 9 mm bullets instead.
They drove 500-km on a nearly impassible road.  It was Feb. 2007
It was Feb. 2007 and landslides isolated the country from east to west for more than  a month.  Bolivians, says Santi, stop cars to get rides and give drivers a few coins.  That helped them with their fuel and provided them with all kinds of information.  "Sometimes people fought to travel with us because it was warmer than being on the back of a truck."
In Bolivia, El Bicho carried 27 people with bags, five chickens, four bags of potatoes …….and one small llama.
Next up was Peru with their empty wallets and dwindling food supplies.  Both put their positive spirits together to find solutions.
They sold advertising on the sides of El Bicho in exchange for tickets and fuel to Machu Picchu and received a daily meal at a couple of restaurants for an ad placed next to one for The National Institute of Culture. Peru's ministry of culture also hired them as photographers.
And it was in Peru Santi learned she was pregnant. They were delighted.
While they travelled through Ecuador, Santi convinced Matu to go for a short trip through the jungle.  But they ended up staying there because Santi 's contractions began.  She spent 10 days In a rural hospital where doctors recommended no more travel until the baby was born.
They stayed close to an indigenous community next to a river where they rode through currents on a pumped tire from El Bicho  to get them to a  nearby town.
Santi made pancakes to sell on the street and Matu sold photos of tourists rafting on rapids.  A Russian doctor delivered their 8-lb daughter by Caesarian section. They named her Zaina.
Afterwards, Santi says she felt like her body exploded. "I had fever and convulsions and several days later, I was told I had acute erysipelas, a disease caused by insect bites."  Matu was advised to capture frogs to fight the disease. "The frogs' bellies were put down on the swelling on my legs that reached to my waist. The frogs got red and swollen. I was told they had absorbed my disease," says Santi.
"I don't know if it was the rituals or one of the medicines, but 10 days later, the fever decreased and I got out of bed. I told Matu, 'lets's get out of here before I die.'"
They headed to Quito and got a passport for Zaina. And at less than a month old, Zaina became an all-terrain baby when they took an all-terrain truck to the Cotopaxi at 4,000 m.
Colombia was on the horizon.
They had never considered crossing it because of the dangerous drug operations.  But they changed their minds to include it in their adventures and ended up spending five months there.  "We'd been advised several times to cross the border and to drive without stopping because it was still under the rule of the FARC." (Revolutionary Armed Forces of Colombia).
When they came to a lovely town they couldn't resist stopping.They ended up staying three days because of the lines of people wanting to see inside the bus.  "We had been in countries where people were so shy they hid from us. Colombia was like breathing fresh air. Colombians are very respectful, educated and co-operative and we made good friends right away," says Shanti.
Along the way, they visited Silva, a trade centre for Colombian Indians called Guambians, who are dedicated to agriculture. Both men and women wear skirts and black hats.
Onward to Venezuela,where Santi decided to write their first book about the journey. The plan was to use its proceeds to cross over to Panama. Friends lent them money to print the book and to produce T-shirts they designed and to get the bus fixed in Brazil.
And then because their curiosity and sense of freedom led them, they continued on to explore Guyana, Suriname and French Guayana , countries nothing like South America, says Santi, and where in some places they felt transported to Africa.
Then Matu, Santi and Zaina arrived in Mexico.
Their welcoming smiles and warm, open hospitality towards everyone belie the lives they embrace – one of total freedom.  They have no schedule, no five or even 10-year plan, no desire for money.  Their only agenda is to sell enough books and T-shirts for food and fuel.
Matu says he's happier than he ever has been.
Side story about Zaina: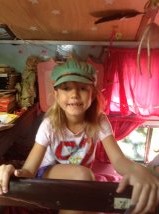 Zaina is at the top of her class in her travelling school.  She's seen and heard life lessons that students in a structured four-walled classroom will never know. In Costa Rica she was introduced to five new insect species a day.  She is taught Spanish and maths by her mother. She doesn't follow any schooling programs or method.  Reading is her favourite thing to do other than playing.  When she wants to be admitted to a school or university, she'll do an entry test, says her mother.  Her social skills have been developed in different countries.  When Zaina makes special friends, it's common for us to stay longer for her to enjoy the friendship," says Santi.
Thank you to Suzanne Bourret for this story.