Many folks have been asking about bikes and here is the latest, exciting news..if looking for a bike to rent during your stay in the area contact Cruzin Mexico 999 992 1299 and check out what they offer.
A Chicxulub 'Catholic' pig will be the toast of the roast for this year's 12th annual barbecue event hosted by Manuel Sanchez.
Known for his sense of humour, Manuel is calling the 90-kilo porker a Catholic pig.  This year Manuel is donating10 % of his proceeds to Chicxulub Food Bank.  "I see many Canadians and Americans contributing so much to help our community. I want to do what they do," says Manuel.
The roast will be held Feb. 18,starting at 5 p.m., at La Lupita Restaurant, Calle 34, 129 y 29 in Chicxulub.
The all-you-can-eat feast will include beans and rice, salad and a dessert of coconut ice cream with Kahlua.
Entertainment will feature Yucatan and Jalisco traditional dancing and a live mariachi band. Word has it that vats of Tequila are being rolled into town for complimentary shooters.
Cost is $230 pesos that includes free round trip transportation from your home, as well as ticket delivery upon reservation.
Call 999 163 2326 or e mail Manuel at netos_sanchez@hotmail.com.
Subject: Medical aid takes flight  to Scarlett Ryan recently arrived in Progreso with a suitcase full of sticky solutions.
The Ottawa resident delivered medical items, normally destined for a landfill site, to Hermana Aurelia, interim director of San Joaquin Nursing Home.
The medical provisions came from Not Just Tourists (NJT), a not-for-profit program that collects surplus medical supplies for countries in need.
Bandages, needles, and various medications for the aged were assembled by the volunteer NJT group in Ottawa.
Hermana Aurelia was delighted with the donations. She was especially pleased by the syringes for her diabetic patients.
Canadians see landfills with surplus medical supplies that are no longer needed, says Ryan.  " A very dear friend of mine experienced cancer rehab and saw how these (unused) supplies were casually garbaged.  So she researched where she could donate such supplies and found NJT."
Ryan carried the mission forward for her friend by contacting Sharon Helgason, who suggested the nursing home, where she started an exercise program for the elderly a number of years ago with the help of Canadian and American volunteers.
The NJT provided a letter in English and Spanish for the Customs department.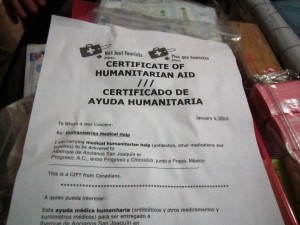 Thanks so much to Scarlett and NJT.