Mens' Maintenance Group
The bedrooms looks good, and will likely not need a second coat. So we'll concentrate this week on painting the back courtyard yellow. There is a small office near our bodega, a section of the main hallway ceiling area, and the lower interior courtyard walls that need sealing and preparing for painting too.

The back area looks really clean now, and the biggest pile of garbage has been hauled away by the town. Ixmael has started construction of the columns for the garbage area roof, and we may be able to place the main beam and joists this week.

Our work season is drawing to a close. I am leaving on Mon, March 23, and a few others are leaving somewhere before or about that time. We can discuss when we might have a last breakfast together, and what day will be our last.


We'll be giving the back courtyard area and the small medical office a second coat of paint this week. Placing the joists, beams and ceiling blocks on the garbage area roof is on the list and the back yard cleanup will continue. Prepping the lower courtyard garden area, and painting the front courtyard sitting area are possible chores as well.

Tues March 17, 2020 will be our last day. After we have finished work that morning we'll clean up and head to La Antigua Restaurant, calle 21 and calle 60, for a wrapup brunch between 10:30 and 11:00. I'll reserve a table for us.
It's our last day of work at the Albergue this Tuesday. A few of us will be helping with the finishing work on the garbage area roof. Others will work on giving the inside of the back courtyard a second coat of yellow, and touching up other areas with white. We will be cleaning up early and heading to La Antigua restaurant, on the corner of calle 60 and calle 21, for a final brunch together. Our reservation there is for 10:30 am.
I have attached a few pictures of the work that was being done on our last day at the Albergue. The garbage area now has a sealed roof, and will be dry for weekly garbage disposal. While Ixmael and his coworkers were doing the roof, Louis, James and I gave the back courtyard a second coat of yellow at the inside ground level. We then packed all the tools, put them in a locked bodega, and cleaned and organized our storage area ready for next year. This season we accomplished a lot. We averaged about 7 workers every Tuesday over the course of the winter, with the numbers increasing in mid February to between 10 and 12 guys each week. This seemed to work well, since 10-12 workers allowed us to spread out, doing 3 or 4 different tasks, without too much confusion. It was so much better starting at 8 am and leaving by 11, rather than beginning at 9 am, and suffering into the heat, late in the morning. This year we installed two windows in the bedrooms behind the infirmary, and resealed two more near the chapel. We constructed the solid concrete roof for the garbage area with Ixmael's help. The backyard area got a tremendous cleaning thanks to the work of Serge, James, Louis, and Bill. The painting continued as it has every year, and we gave two coats of paint to the front entrance hallway between the main entrance doors and the chapel, the two back bedrooms behind the infirmary, the stippled area just outside the infirmary which gives access to the roof, the small office near the dining area where the meds are stored, the back outer courtyard behind the sitting area, both sides of the front entrance door, and some small sections of ceiling that were badly stained. Thanks to Wayne, Ray, Steve, Dave, Carl, Ian, Rod, Austin, and Joe who worked on the painting most weeks. Tony was a big contributor this year with his purchases of the two windows for the infirmary bedrooms and the four tubs of paint that we used. In addition, we spent around $14,500 pesos on paint supplies, tools, building materials, and labor. Mainly these costs were covered by Bob and Susan Turner ($12,000) and a few other contributors including myself, James, Serge, Steve, Bill, and Louis. I would like to thank everyone who donated funds and/or materials. Without financial support like we received this year, we would be unable to accomplish anything. I also want to thank everyone who came and put in the time, working for the improvement of the facility. It's unfortunate we couldn't have a year end breakfast to celebrate our accomplishments, but there's always next year. I know the Madre would like to pass on her thanks for all that we do. She has made many appreciative comments regarding our efforts, throughout our three month working period. I recognize too, that many of the residents are pleased and thankful to see us arrive every week, and many of you have struck up special relationships with some of them. If I have missed mentioning anyone in this email, please accept my thanks for your anonymous contribution. Next year we will begin the first Tuesday in January and we will have a new list of projects. Hopefully the worst of the coronavirus will have passed and the Albergue will not have been seriously affected. By now most of you are back home, and likely self isolating or just completing your period of seclusion. May you all remain in good health, and return to help at the San Joaquin Albergue next year. Thanks for all that you have done. Take care, Dunc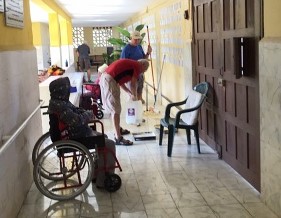 Exercise Group
The volunteers and the residents enjoyed this season a great deal. Paula and her group did a great job exercising and laughing with each other and the residents. I letting you know now that Paula, our fearless leader is not coming back to be with us next season. No-one is willing to take over for her so perhaps with time, someone over the summer will think and decide to give it a try. I cannot do it again so some measure of volunteers would be helpful.