Men's Maintenance Group
More progress has been made in the front outer hallway, and the cleanup of the back yard garbage area.
Tony has organized two new bedroom windows off the infirmary to be installed. Once we have finished painting the outer hallway yellow, we will begin painting those two bedrooms. Discussions regarding the garbage area shelter are ongoing. Ixmael has offered to help with the construction, once the madre has approved a plan.
Ixmael has ordered materials for the garbage area roof, and that project will start soon.
Hi All, We'll be painting the two bedrooms off the infirmary this week, and continuing backyard cleanup. It's Carnaval, but some of us will still be there to work. If you can make it, even for a short time, your help will be appreciated. See you Tuesday at 8 am, Dunc
Special Announcement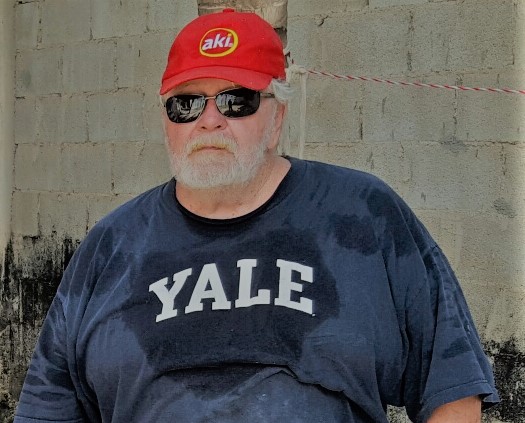 For those of you who don't know, Bob Turner passed away early Saturday morning. He was suffering from pancreatic cancer. Bob spent a lot of time at the Albergue and made many donations to projects over the past few years. His generous presence and easy going manner will be missed.

Exercise Group
Paula and her group have been attending every Tues and Thurs at 10 AM and have fun energizing the men and ladies at San Joachim.

Carnaval Feb.22nd
The Coronation of the King and Queen from the residents of the Albergue is happening at 1:30 pm The Sister in charge must have invited me four or five times and said make sure your volunteers come. I explained that many were busy or had other commitments, she smiled and said : Los esperamos con gusto. translated means "We are expecting you all with pleasure." (the you all is implied in los which is plural )
So if you have never gone, it's worth coming. There is a lot of dancing and costumes worn by the Progreso former queens of Progreso who are now in the Seniors groups of dancer (I bet most of us could not dance like this group does. ) And if you've been there before like me, I also enjoy going because the residents who don't really have any family members that attend, are always pleased when we go and say : Hola, como estas ? and they beam, because they too are "receiving" guests.
So if you are free, feel free to come but no worries, Iam not taking attendance LOL,
Abrazos,(hugs) to all of you for the pleasure you bring to the residents , weekly and year after year.
Paula
Saturday Feb. 22