"Pig Beach", the first tobacco-free public beach in Yucatán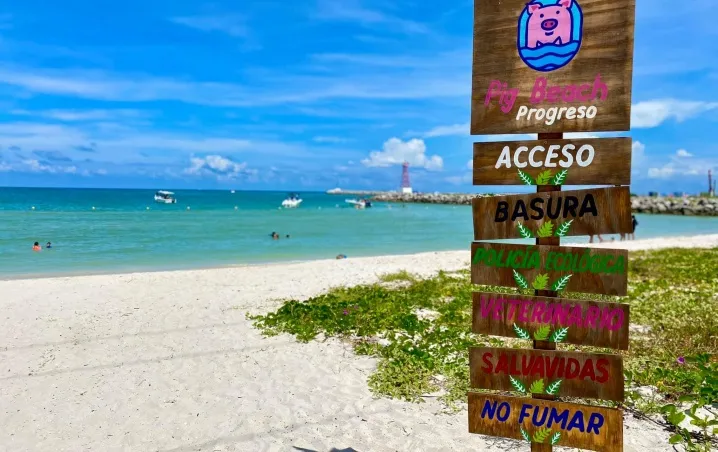 The mayor of Progreso, Julián Zacarías Curi, accompanied by municipal health and ecological police personnel, received the certification of a smoke-free site and cigarette butts from the person in charge of the National Tobacco Control Office from Conadic, Diana López Gómez, thus becoming the first beach at the state level to receive this certification.
For his part, Arsenio Rosado Franco, Technical Secretary and Commissioner of the State Council Against Addictions of the Ministry of Health of Yucatán, pointed out that this certificate marks a step in the right direction to continue in the battle against addictions, at the same time as It is also paid for the care of the environment, since by eliminating the use of cigarettes in the area, it collaborates with public health and ecological issues.
Meanwhile, Zacarías Curi thanked his work team for the commitment they put into each of the projects, which are reflected in obtaining this type of certification, which demonstrate the hard work carried out every day.
The mayor celebrated having the first beach in the state with this certification, which not only seeks to continue putting Progreso in the eyes of the world, but also seeks to contribute to the well-being of citizens so that they can be found on clean, safe beaches with a optimal environment.
Progreso, Yucatán, (December 01, 2021).– From this Friday, December 5th, the general public will be able to enter the Progreso fiscal pier to see " Sunsets at sea ".
The Progreso National Port System Administration organizes this activity that was carried out before the pandemic and will resume this Friday at 4:00 in the afternoon.
That day people will have free access to the fiscal dock from 4 in the afternoon until 4:30. Then they will have two hours to walk around the site as the site will close at 6:30 in the afternoon.
How To Participate In 'Sunsets At Sea'?
To participate you must register at the following link: https://www.sparp.com.mx/Accesoft2/Caminata/registro
Once there, you must enter the required information, and then check the inbox of the email you registered and there you can find the QR code, which you must present on the day of the event for your entry.
It is a Code per person, whether they are children or adults. Registration is mandatory from children of two years of age.
Attendance Limit
Due to the Covid pandemic, there will be a limit on the attendance of people so as not to lose a healthy distance or have an agglomeration.
It should be noted that this activity is free and pets are allowed, for more information consult the following Facebook page:
Sign up for the hike Fill in the information on the form to have your QR code and ensure your access on the day of the event.
Full name E-mail Postal Code Sign up Sorry, the maximum registration is 2,500 people
Source: Sipse
Variant Omicron arrives in Yucatán
Published 13 hours ago the Dec 29, 2021
-The State Secretary of Health (SSY) reported that it sent to the Institute for Epidemiological Diagnosis and Reference (InDRE) a sample of a young patient from Mérida, with a complete vaccination schedule, and the results are expected to be obtained next week.
-The state agency urged the Yucatecan population to reduce unnecessary mobility and avoid social gatherings on the occasion of the end of the year to avoid crowds that spread the contagion of this virus.
Christmas in Yucatan with a significant increase in Covid-19 infections
ByYucatan Times on December 26, 2021
There were 38 new infections in the entity.
(Merida Yucatan – SSY) In the medical report of the day, the Ministry of Health (SSY) confirmed 38 new COVID-19 infections; one death of a 77-year-old male who lived in Merida and had hypertension among his main illnesses, and 24 people in public hospitals.
The accumulated total during the pandemic is 77,697 positive cases and 6,479 deaths. The age of the positive cases range from 1 month old to 107 years old. Already 71,012 people have been recovered (91% of the total).
Of the positive cases, 182 are stable, isolated, and have mild symptoms under medical supervision. Of the positive cases, 617 are from another country or another state. Of the 38 new cases detected in the last 24 hours, 28 have been confirmed in the city of Merida, 4 in other states, 3 in the port of Progreso, 2 in the municipality of Uman, and 1 in Tixkokob.
In Merida, 47,484 people have been diagnosed as infected with Coronavirus as of December 24:
12 thousand 256 live in the North area of the city
11,713 in the East area of the city
4 thousand 633 in the Centro area of the city
7 thousand 334 in the South area of the city
11 thousand 548 in the West area of the city
The Yucatan Times
Newsroom
#ReporteCovid: Contagions continue to decline in Yucatan
Dec 4, 2021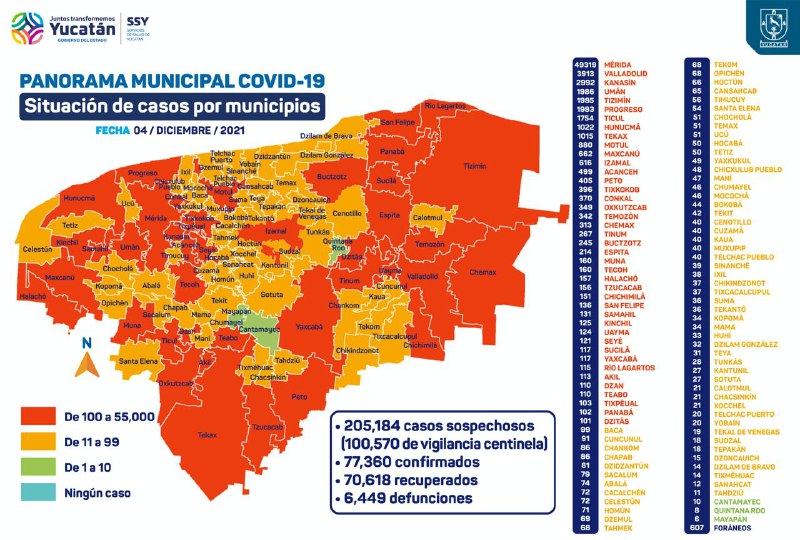 From Tuesday, December 7 to Sunday, December 12, the vaccination will be carried out with the first dose of the pharmaceutical company Pfizer against the Coronavirus for adolescents aged 15 to 17 years in Mérida and 67 more municipalities in the interior of the state, reported the state Health Secretariat ( SSY) and the Ministry of Welfare.
This is the medical report for this Saturday, December 4:
As has been pointed out, in the economic reopening the most important data are hospital occupancy and daily income. Today we have 35 patients in public hospitals.
70,618 patients have already recovered: they do not present symptoms nor can they infect. This figure represents 91% of the total registered infections, which is 77,360.
Today 21 new infections of Coronavirus were detected:
20 in Mérida
1 in Valladolid
Of the 77,360 positive cases, 607 are from another country or state.
Specifically, in Mérida, 47,240 people have been diagnosed with Coronavirus (accumulated cases as of December 3), living in:
12,208 in the North zone
11,660 in the East zone
4,593 in the Downtown area
7,287 in the South zone
11,492 in the Poniente area
Unfortunately, in this medical report we report 4 deaths:
1.- 87-year-old male from Merida COPD
2.- 70-year-old female from Mérida DM
3.- Male 80 years old from Mérida Without comorbidities
4.- 47-year-old female from Mérida Without comorbidities
Acronyms: SYSTEMIC ARTERIAL HYPERTENSION (SAH), DIABETES MELLITUS (DM) and CHRONIC KIDNEY FAILURE (CRF).
In total, 6,449 people died from the Coronavirus.
Of the active cases, 258 are stable, isolated, monitored by SSY medical personnel; have mild symptoms.
As already mentioned, 35 of the positive cases are in public hospitals and in total isolation. There are other patients awaiting diagnosis.
The age range of the cases is from 1 month to 107 years.
THE WEEKLY INDICATORS OF THE STATE HEALTH TRAFFIC LIGHT ARE GREEN.
72,440 vaccines arrive in Yucatán: reinforcements will be applied to health personnel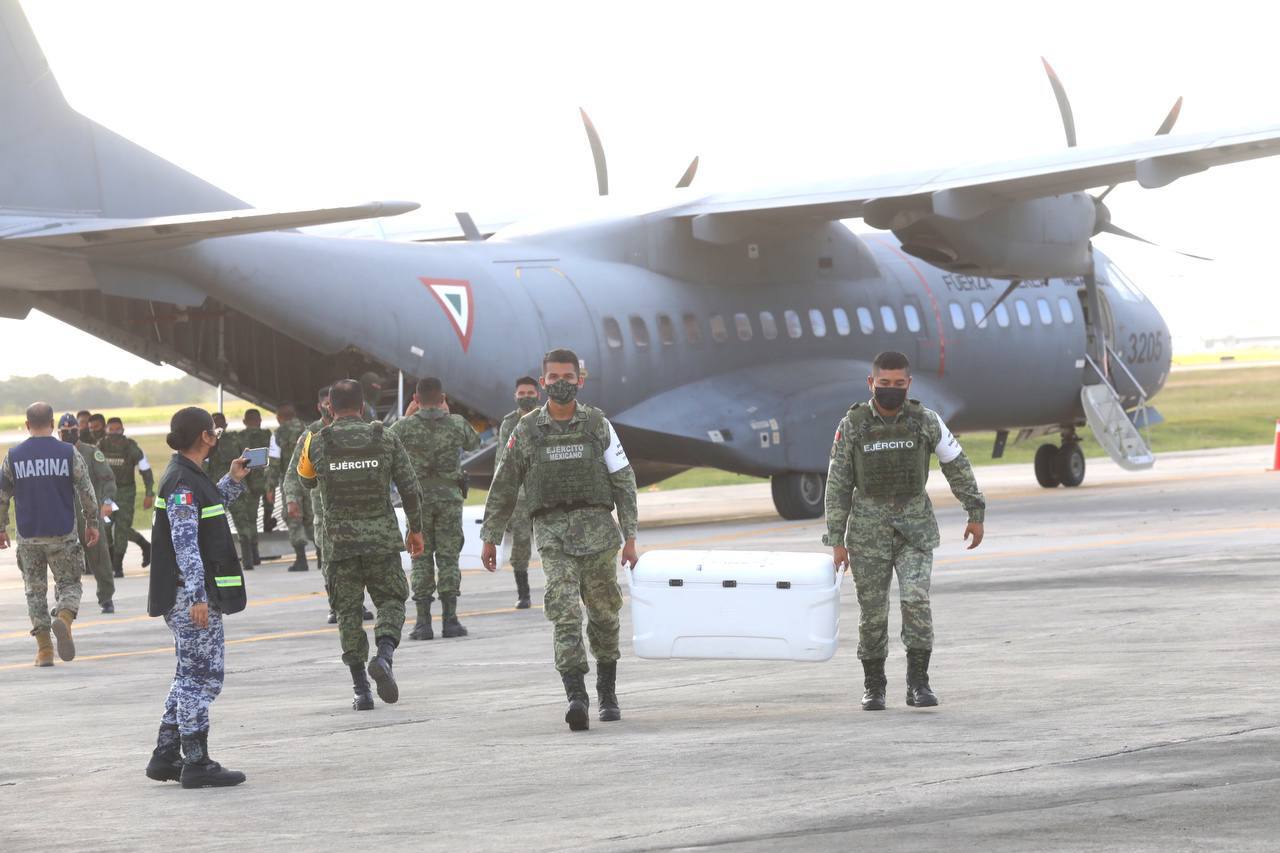 Mérida.- A new shipment with 72,440 vaccines against the Coronavirus from the pharmaceutical companies AstraZeneca and Pfizer arrived in Yucatán this Monday, to begin with the application of the booster dose to health personnel of the state of first and second line of care, as well as for second doses to adolescents between 15 and 17 years of age in municipalities that will be announced in the coming days.
The Yucatan Ministry of Health (SSY) explained that the vaccination modules that will be enabled for the administration of the 35,000 doses of AstraZeneca and the 37,440 Pfizer vaccines that arrived in the territory will be announced shortly, for which they invited the population in these age ranges to be attentive to the information that will be provided through official channels.
On the instructions of Governor Mauricio Vila Dosal, the director of Prevention and Health Protection of the SSY, Isaac Hernández Fuentes, went to the Military Air Base (BAM) number 8 to supervise the arrival of this new batch, aboard an aircraft C27J Spartan of the Mexican Air Force registration 3205 from Mexico City, which touched state territory at 4:07 this afternoon.
Accompanied by the state Vaccination Coordinator, Lieutenant Commander Carlos Gómez Montes de Oca, Hernández Fuentes verified the unloading of vaccines and supplies, by Army personnel, which were placed in a thermoking truck of the agency, and then transferred to the state warehouse, from where they will be distributed to the places to apply them.
To date, more than 3 million 184,939 vaccines against the Coronavirus have arrived in the state, to which is added the batch of 72,440 that the SSY received this afternoon.
It should be reiterated that the vaccines will be applied to the population that has been previously registered and selected through the platforms of the federal government, so the Federation is in charge of the planning and protocols of this vaccination and the state government will be supporting this work.
Traditional 'Burning of the Old Man' will be prohibited this New Year's Eve in Progreso
ByYucatan Times on December 7, 2021
Traditional End-Of-Year Activity Will Be Prohibited In The Port
Progreso, Yucatan, (December 07, 2021).-The tradition of the "burning of the old man" in Progreso will not be in this municipality this holiday season. The Civil Protection Directorate reported that for safety reasons this traditional practice will not be allowed to take place, nor will the sale of fireworks or any type of explosives in street stalls.
The head of Civil Protection of Progreso, Aurelio Teodoro Medina Pérez, mentioned that the person who is caught selling these artifacts on the street will be consigned to the corresponding authorities.
Also, people who are seen burning any type of pyrotechnics in the street will receive a sanction.
He explained that during these Christmas dates a surveillance operation will be carried out and will have the support of the Municipal Police.
No Permission For The Sale Of Pyrotechnics In Progreso
Finally, the director of Civil Protection added that in Progreso no establishment has a valid permit for the sale of pyrotechnics, so that in the event of an illegal sale, this would be a federal crime.
Source: Sipse The Yucatan Times
Respond to this post by replying above this lineNew post on Surviving Yucatan
Omicron COVID Updatesby yucalandia
Dec 12, 2021With all the breaking COVID news that's been announced these past week, it's been challenging to keep track of how to best keep ourselves, families & friends safe from COVID, especially as the Omicron variant is exploding in a number of countries, so we offer about 7 different pieces of significant COVID news below:First: The latest COVID news out of Oxford University is slightly troubling, but it has 2 silver-linings
~ Oxford University scientists (creators of the Astrazeneca vaccine) have recently announced that neither Pfizer nor Astrazeneca are performing well against Omicron transmissions. This means that the COVID-antibodies that vaccinated people's immunes systems created due to Moderna, Pfizer & Astrazeneca vaccinations, are NOT working well against Omicron, despite hopeful reports out of South Africa.https://www.ox.ac.uk/news/2021-12-13-vaccines-shown-induce-lower-levels-neutralising-antibodies-against-omicron-0~ The Omicron variant has more mutations than any other previous COVID-causing virus, with 50 total overall mutations, and more troubling, 32 mutations in the Coronavirus's Spike protein. This is significant, because Omicron's the mutations in the Coronavirus Spike protein have apparently made Omicron somewhat invisible to the m-RNA based vaccines (Moderna & Pfizer), because the m-RNA vaccines have a built-in Achilles Heel that they only target a tiny tiny slivers of the Coronavirus that causes COVID.Background Scientific Context:
The m-RNA molecule vehicle of the Moderna & Pfizer vaccines, is so small that the m-RNA vaccines (Moderna & Pfizer) can only deliver a tiny viral payload delivered to our bodies – making them like a Vespa … versus a big Mac truck. The tiny viral payload limits of m-RNA vaccines mean they can deliver only tiny snippets of just tiny parts of the Coronavirus … 17 snipppets for Pfizer, and a different 11 snippets for Moderna … versus Astrazeneca's & Sinovac's HUGE viral payload that carried by AZ's & Sinovac's big robust Adenovirus vaccine vehicles that can deliver either BIG CHUNKS of the Coronavirus Spike protein (Astrazeneca's approach), and big enough to deliver the WHOLE VIRUS (Sinovac's approach) for our body to make lots of different COVID-antibodies to the various parts of the Coronavirus.
Next … Notice that none of the non-scientist Medical Doctor 'experts' we see on TV, talk about the differences between all the different kinds of different antibodies our bodies make to each of the different COVID vaccines => differing levels of protection depending on which vaccine you get, because the AS SEEN ON TV Medical Doctor "experts' are not scientists, so don't have enough scientific training to understand what's going on. Sadly, the few 'experts' who might know have unfortunately assumed that we're not smart enough to understand.Keeping it simple: There is NOT just one flavor of COVID antibodies. Out in the human population, there are a huge variety of COVID antibodies that can be made by our bodies' immune systems. … Example: There is one suite of COVID-antibodies that our bodies make when we get a natural COVID infection – a very broad suite that depends on which COVID variant (strain) we get. … Then, there's a whole different highly-targeted yet very-small suite of COVID-antibodies our bodies can make if we get an m-RNA vaccine (like Pfizer or Moderna) … Next, there's yet a different slighly broader suite of COVID-antibodies that our bodies make to the slightly larger pieces of Spike protein in the Astrazeneca vaccine … Finally, there's an even bigger broader suite of COVID antibodies our bodies make to the Sinovac vaccine – including COVID antibodies to the Spike protein and the N-Capsid proteins of Coronaviruses.Notice that the extremely narrow range of highly-targeted COVID antibodies our bodies make when we get an m-RNA vaccine (Pfizer or Moderna) is simultaneously a benefit when the Pfizer or Moderna antibodies actually fit-match the Coronavirus you are exposed to …. but that same highly-targeted group of a tiny number of antibodies then can be a HUGE problem when the Coronavirus mutates at any of the very few tiny viral segments that Moderna chose & that Pfizer chose (all corporate secrets) … When the Omicron variant's 32 new mutations make it INVISIBLE to the m-RNA vaccine's extremely narrow range of COVID-antibodies – or invisible to Astrazeneca's smaller number of antibodies, then Moderna & Pfizer & Astrazeneca just do not work well to stop Omicron transmission.Specifically, Moderna's vaccine only has 11 tiny slivers (tiny snippets) of the very large Spike protein, and Pfizer has only 17 tiny slivers (tiny snippets) of the very large Spike protein. … Because Omicron has 32 different mutations of the Spike protein, the CEO of Moderna openly said that they expect the Moderna vaccine to "underperform significantly" … Where (as reported above) it is now proven that Moderna, Pfizer & Astrazeneca are NOT working to stop Omicron's transmission.What does this all mean?
It means getting a 3'rd shot boosters of the Moderna or the Pfizer vaccines work well against Delta variant … but… the 3'rd shot booster of Moderna for patients who had 2 prior Moderna shots, and the 3'rd shot booster of Pfizer for patients who had 2 prior Pfizer doses are not working against Omicron.Fortunately, there is some good news in all of this:
People who have had prior natural COVID infections, or a recent Sinovac dose are showing lower transmission rates for the Omicron variant – because our bodies make a broader suite of COVID-antibodies when exposed to the whole virus.This is why Sinovac chose adenovirus vehicles for their vaccines, because the adenovirus vehicles carry & deliver HUGE viral payloads. By delivering a BIG payload of a WIDE range of Coronavirus proteins, Sinovac patients & patients who get natural COVID infections produce MUCH BROADER immune system protections, because our bodies make a much much bigger variety of COVID antibodies, because the adenovirus-vehicle vaccines bring in so much more viral material to train our immune systems.
More Good News:
Oxford University scientists (creators of the Astrazeneca vaccine) have recently announced that people's normal (ordinary – typical) immune system's Killer T-Cell response to Omicron is doing very well at preventing serious Omicron infections – which means we still get Omicron infections …. but we likely are NOT hospitalized, because whether vaccinated or not, our immune systems Killer T-Cell systems are working well against Omicron for most patients. … Yet, as always, immuno-comprimised people need to be careful.
Even More Good News:
If you don't want to catch Omicron COVID, or Delta COVID, it is well proven that wearing a tight-fitting medical grade mask (N95, N97 or N99) stops COVID transmissions, because COVID is transmitted by us inhaling the invisible infectious fine aerosols from people talking or singing.Next, if you take your mask off in public to eat or drink, it still works to be at least 8 feet from other people, especially when out of doors, where even gentle breezes disperse to safe levels the fine invisible aerosols from people talking. If indoors with masks off, as little as 6 ft can work IF you have strategically-place fans blowing fresh air between people, to disperse the talking-generated invisible fine COVID aerosols to safe levels.
Even MORE SUPERB News:
Ironically, when Omicron rapidly infects so many people who have not had vaccinations – (hopefully) causing only minimal harm to people … it gives those people broad natural immunity to new future COVID infections. Yet, remember that getting vaccinated has greatly helped people from getting the more-harmful previous strains of COVID – even if their vaccinations do not protec them now.Finally, notice that the possibility of a Pfizer or Moderna patient then getting an Omicron infection might be a SUPERB thing. The best studies of people who previously got the combination of a natural COVID infection (creating one suite of COVID antibodies), paired with then getting an m-RNA vaccine (creating a DIFFERENT suite of COVID antibodies) … has been giving those people near "super immunity" to future COVID infections.Why? The combinations of our broad range of COVID-antibodies from the natural infection +plus the m-RNA vaccine's triggering us to produce highly-targeted COVID-antibodies, together creates such a WIDE VARIETY of COVID-antibodies in these individuals – that they have incredibly better overall protection from any future new COVID variant infections than either a natural infection or a vaccination can give alone.So, inspite of the recent news of our vaccines poor performance at stopping Omicron, the overall picture looks surprisingly good – unless you are seriously immuno-compromised.Super Immunity to All Forms of COVID from Hybrid Vaccination ApproachFinal 3'rd Booster Update for People in Mexico:
Every announcement we have heard is that the 3'rd shot boosters are planned to be Astrazeneca in Mexico … and even better: Yucatan has a plan to start vaccinating people over age 60 with the 3'rd booster starting Dec. 16 – Dec. 21'st. If you want a COVID booster sign up with your CURP at the vaccination registration-compliance website:
https://mivacuna.salud.gob.mx/index.phpSee the schedule below
FINALLY: The Latest COVID News for Yucatan:
For all the people doing holiday travel or coming to Yucatan, let's help keep Yucatan & Yucatecans safe!Here's the progression of COVID cases here across Yucatan (per week) since Sept 11, 20212012 Cases for the week of Sept 11 … 1958 Cases (Sept 18) … then 1901 … 1819 … 1615 … 1457 … 862 … 710 … 398 … 339 … 287 … 267 … 187 … and just 146 cases this past week …Notice the trend?
You would have to encounter roughly 15,700 Yucatecans in a week to meet one with COVID right now.
Notice how it actually works when almost all people wear masks and socially distance?

Be a part of the solution:Snowbirds …. PLEASE … ISOLATE YOURSELVES .. when you arrive.Self-Quarantine for at least SIX (6) DAYS after you arrive … to not bring COVID here.
and double mask when going through the very-contaminated USA & British airports … and double-mask during the entire flight(s).Yes … Come enjoy life here in Yucatan, but … Stay safe …Happy Travels!Get educated, Stay informed, Stay healthy, Stay safe,Dr. Steven M. FryPh.D. Analytical Chemistry, Aerosol Science, Measurement Science, Public Health & EnvironmentRead On … MacDuff !This free site is ad-supported. Learn more
David's Restaurante
New Years Dinner 31 December, drinks at 5 dinner at 6.30
Ultra crispy slow cooked pork shoulder from the wood oven
Conchitas famous sweet potatoes, seven salads
Carrot cake and coffee
From the menu, after 6.30 pm, gluten free on request
Prepaid reservations, at the Restaurante Tuesday to Fridaybetween 11 am and 3 pm. 390 pesos
Enroute from Cancun, call ahead, Conchita will cook extra.
AlsoWestjetters dinner Tuesday from 5 pm. Classic Margaritas. Westjetters breakfast Wednesday from 8 am.
January to April we're open 9 am to 9 pm Tuesday to Saturday
Private Fiestas, we have lots of private space for weddings, anniversaries,birthdays and fun. Roast lamb, please book 5 days in advanceConchita bakes special cakes, from chocolate to carrot cake.
Music alive with Dwain Sands New Years Eve, and every Wednesday and Friday. "Take me out, dance me up."
Heads up! We'd appreciate a call ahead or email for groups of six or more.
969 103 8775 restaurantedavids@gmail.com
Happy New Year Conchita and David
New "Instagrammable" letters installed in Progreso
ByYucatan Times on December 27, 2021
Progreso, Yucatán, (December 27, 2021).- As one more attraction and at the direction of Mayor Julián Zacarías Curi, new monumental letters were installed on the seashore on the international boardwalk of PROGRESO.
"These letters from PROGRESO are closer to the sea, an area with a very beautiful view, where Progreso residents and visitors will be able to capture their memories with spectacular photos" highlighted the mayor of Progreso.
It should be noted that it will be located at the entrance where the whale's skeleton is located and will have 2 swings to offer tourism a new alternative to save new family memories and is one more reason to enjoy the afternoons and nights.
In that sense, Zacarías Curi mentioned that these letters were made by 20 Yucatecan artists and each letter weighs approximately 280 kg and measures 2.50 in height x width at a total proportion of 20 meters in length.
Manufactured with a 1 × 1 14 gauge metal structure and 3 × 3 PTR posts coated with epoxy primer, the front will be designed with artistic paint with airbrushing with aspects of the city, it will also have side lighting and LED reflectors of warm light and coated with clear resin for durability.
Each letter is covered on the sides with hardwood liana threads and rods, 300 pieces picked one by one and covered with marine varnish, and covered on the front and back with 1oz fiberglass cloths.
The municipal official indicated that the objective of this new space is to provide the locals with a new recreation site.
"I invite citizens to take advantage of these Christmas holidays, to get to know this new attraction and visit both boardwalks, which have a variety of activities for the whole family"
And he added, "Now your photos in these letters will have a beautiful view, where you can capture memories with the sunrises and sunsets that this beautiful Port gives us."
Finally, Zacarías Curi thanked the Bepensa group and the Mexican Coca-Cola industry for the donation of the letters that had an investment of $ 470,000.00, likewise, and the Public Services workers for working in coordination with these private companies for the elaboration of this new attraction in the city.
The Yucatan Times
The luxury cruise ship Disney Wonder arrives in Progreso for the first time
ByYucatan Times on December 27, 2021
The Governor Mauricio Vila Dosal And The Captain Of The Ship, Andrew McRonald, Exchange Commemorative Plaques For This Achievement.
Progreso, Yucatán, (December 27, 2021) .- Cruise tourism recovers its dynamism, as the Port of Progreso received, for the first time in its history, the luxury cruise ship Disney Wonder from the Disney Cruise Line shipping company, which boosts the economic reactivation of the state, through an important economic spill, for the benefit of local families.
From the International Cruise Terminal at the Height Port of Progreso, Andrew McRonald, captain of the Disney Wonder, pointed out that they would not be here without the help of many collaborators present, mainly the Governor of Yucatan, who has made a reality of welcoming Disney Cruise Line.
"On behalf of my crew, I tell you that it is an honor to bring the Disney Wonder cruise ship to Progreso; It was wonderful to arrive sailing this morning and we are excited to come to this port, knowing everything there is to see and do for our guests, whether they visit Chichén Itzá, decide to explore the crystal clear waters of the cenotes of the region and we know that our guests are going to enjoy exploring the state, " he assured.
During his message, the Governor pointed out that, today, a longing that we had in Yucatan for a long time came true, because definitely, Disney Cruise Line is a shipping company that everyone wants to have in their port, which shows that the territory is at its best.
Accompanied by the director of the Disney Wonder Hotel, Alberto Besco, Vila Dosal recalled that the local epidemiological traffic light is green, but with a high guard, and tourism comes at a great moment, especially due to the transformation of Progreso, where " We have a remodeled International Boardwalk, new tourist attractions, a beach that is certified as clean and this is only a little of what is coming because the last stage of the Malecón remodeling we are going to start in January ".
Within this framework, Vila Dosal and the captain of the Disney Wonder, Andrew McRonald, exchanged commemorative plaques of the first arrival, an event in which the Operations Manager of SSA Mexico in this port, Carlos López Vivas; the representative of the Administration of the National Port System of Progreso (Asipona), Alicia Lara Alcocer, and the General Director of Aconsur, José Enrique Molina Casares.
Also, it was reported that, since activities were resumed with the arrival of cruise ships, last July, a total of 21 have arrived in Progreso.
The Disney Wonder arrived at the Progreso Maritime Terminal at 7:56 am, with 1,380 passengers and a crew of 962 onboard; From Galveston, the cruise ship sailed to the island of Cozumel, to later include Progreso in his trip of 5 days and 4 nights.
The cruise will stay until 6:00 in the afternoon of this day, and then return to his departure point and finish the experience.
Upon arrival, the passengers and crew were received by the Friends of Health, who provided them with antibacterial gel and face masks, if required, as part of the care provided by the State Government, to achieve an economic recovery with safety and responsibility.
Before retiring, Vila Dosal boarded the Ship of the Mexican Navy Secretariat (Semar), ARM Veracruz PO-154, in the company of Rear Admiral General Corps of the General Staff, Sergio Reyes Rodríguez, and together, they toured the interior of the ship, where the Governor signed the distinguished visitors' book and spoke with the crew.
The Yucatan Times