This month is the beginning of  our 11th year:  The Food Bank began operating  in 2005 and it is because each of you that it has been a success.
And what a few days it has been!
The packaging of the dispensas on the 14th saw a number of familiar faces and a few new ones who came out to pack the bags and the place was alive with enthusiasm and laughter.
There was no grand celebration but more of the same.  Thanks to a donation, each family received a reusable bag to pick up the dispensa.  On the 15th, our 4 CAPP students came and helped complete the data gathering on the families for the new data base Kurt is developing.
We even had a horse come through our path that day!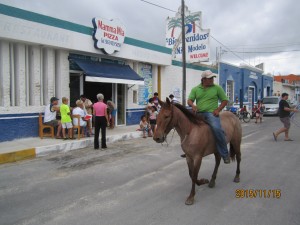 Have a look at the families as they picked up their dispensa.