San Joachim was busy all season thanks ot Paula and her group that went faithfully every Tues and Thurs to ensure the seniors were kept loose and involved!
When I returned from my hiatus in April everything seemed different to me and was I stiff!!  I obviously missed the workouts as well!  We had a few visitors that came to help out and that always makes the residents happy.
This was my last visit for exercise group today.  the residents don't like to be bothered during their quiet siesta times and only 2 diehards came to workout.  And Lucy who came from Merida to help out.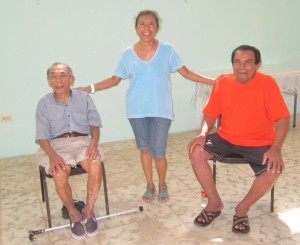 The maintenance group led by Daniel was kept busy thanks to Sister Concha and the aging building. At one point the guys found, what they thought was an empty cardboard box but to their surprise was this new family of kittens!  Thanks to all of you who helped out once again this season.