From a friend re covid 19 vaccine!
Don't panic if you see a lump on your armpit after COVID-19 vaccination, doctors say
As more Canadians receive COVID-19 vaccines, more and more people might encounter a side effect that radiologists want the public to be more aware of: swelling under the armpit, which can show up on mammograms during screenings for breast cancer.
https://www.ctvnews.ca/health/don-t-panic-if-you-see-a-lump-on-your-armpit-after-covid-19-vaccination-doctors-say-1.5339253
Latest from Progreso: New closure of beaches and boardwalks in Progreso. THE RESTRICTION WILL APPLY FROM FRIDAY, MARCH 26 TO SUNDAY, APRIL 12 / THE STATE GOVERNMENT IS SEEKING TO REDUCE THE NUMBER OF CONTAGES DURING THE HOLIDAYS OF HOLY WEEK / REPORTED THAT THE RESTAURANTS OF MALECÓN WILL BE ABLE TO CONTINUE OPERATING SANITARY AND EVERY MEASURES.
COVID REPORT:
Yucatan approaches 4,000 deaths from coronavirus; April 21/2021
In the State of Yucatan, so far in the pandemic, 36 thousand 463 infections have been reported, 31 thousand 924 people recovered and three thousand 972 deaths.
Yucatán reported 86 new infections and eight deaths from the coronavirus in the last 24 hours.
The State Health Secretariat announced that the cases come from Mérida (52), Kanasín and Valladolid (5), Progreso and Tizimín (4), in addition to Acanceh, Baca, Conkal, Hunucmá, Izamal, Motul, Seyé, Sucilá, Tekax, Ticul, Tzucacab and Umán with one each. There are also four more positives from foreigners.
In the medical part it was also reported that eight people, seven of them men – mostly over 50 years old – lost their lives as a result of the virus.
1.- Male 50 years of Merida Obesity
2.- Male 39 years of Homún Without comorbidities
3.- Male 44 years old from Mérida Without comorbidities
4.- Male 74 years of Progress DM / HAS / IRC
5.- Male 68 years of Homún DM / HAS / IRC
6.- 68-year-old male from Mérida DM
7.- 68-year-old female from Mérida HAS
8.- 67-year-old male from Mérida DM / HAS
Acronyms: Systemic Arterial Hypertension (SAH), Diabetes Mellitus (DM) and Chronic Kidney Failure (CRF).
Of the active cases, 412 are stable, isolated, monitored by SSY medical personnel; have mild symptoms. In addition there are 155 more people hospitalized in public clinics in total isolation. There are other patients awaiting diagnosis.
For first time, Yucatán will switch to yellow on coronavirus stoplight map
The state has been fixed at high-risk orange on its own stoplight map since June
Published on Friday, April 23, 2021
Yucatán will switch to medium-risk yellow on the state's coronavirus stoplight map for the first time on Monday, Governor Mauricio Vila announced Thursday.
Yucatán is currently high-risk orange on both the state and federal stoplight maps. The federal Health Ministry will present an updated map at Friday night's coronavirus press briefing.
Yucatán was medium-risk yellow on the federal map between November 23 and December 7 last year but state authorities decided last June that they would make their own decisions about coronavirus restrictions according to their own stoplight system.
"We have decided that decisions about Yucatán will not be made in Mexico City," Vila said at the time.
The risk level in Yucatán, which has recorded more than 36,000 confirmed cases and over 3,600 Covid-19 deaths, has remained fixed at orange on the state stoplight map since June 8, 2020.
As of Monday, however, restrictions on the circulation of vehicles between 11:30 p.m. and 5:00 a.m. will not apply Sunday through Wednesday. But the ban on driving between those hours will remain in place Thursday through Saturday.
Vila also announced that restaurants will be permitted to remain open until midnight Sunday to Wednesday starting next week. They have been required to close at 10:00 p.m. for almost a year since reopening to in-house diners.
Also starting next week, the maximum capacity at restaurants, stores, shopping centers, supermarkets and hotels will increase to 75%. Cinemas and theaters will be limited to 50% of normal capacity.
Children's playing areas and sporting facilities in public parks will reopen Monday, while university students will be permitted to resume professional work placements on May 15.
Social events such as weddings will also be permitted as of May 15, but people hosting and attending will be required to comply with strict health protocols. Attendance will be capped at 100 for indoor events and 200 for outdoor ones.
The governor warned that authorities will close down any events at which health protocols are being violated.
Yucatán took the decision to switch the risk level to yellow based on data showing that 30.5% of critical care hospital beds set aside for coronavirus patients are occupied and 51.6% of all beds allocated for such patients are in use. The infection rate and the positivity rate are both on the wane.
As of Thursday, there were an estimated 562 active cases in the state, according to federal data, and 27,408 across the country.
Mexico's accumulated case tally currently stands at just under 2.32 million while the official Covid-19 death toll is 214,095.Source: Milenio (sp)

April 2021
Unexpected help!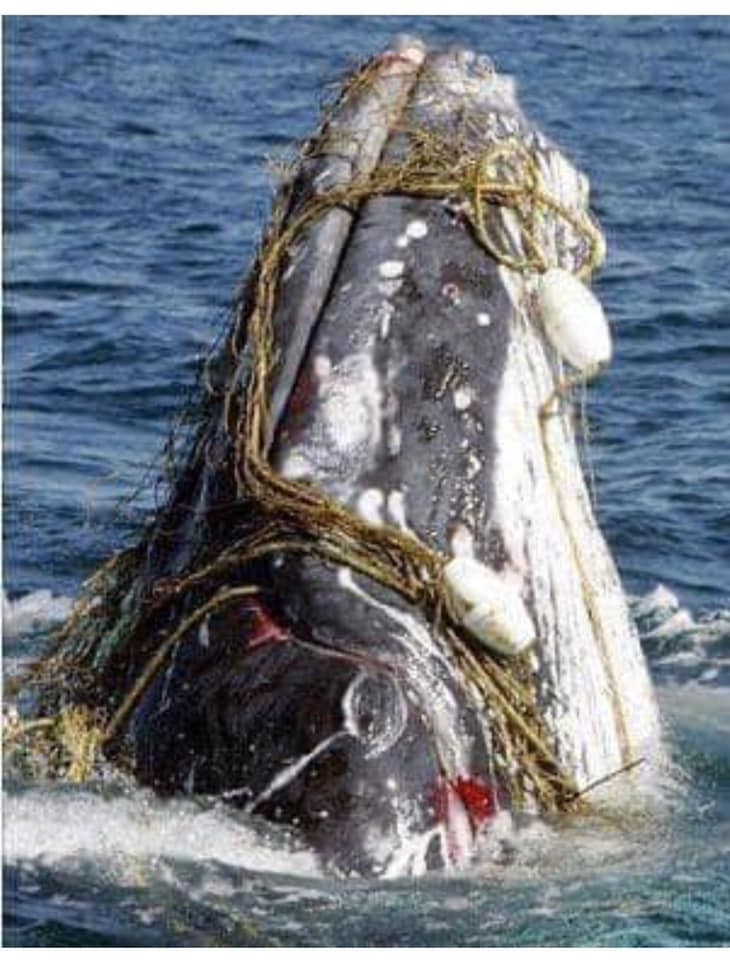 A female humpback whale had become entangled in a spider web of crab traps and lines. She was weighted down by hundreds of pounds of traps that caused her to struggle to stay afloat. She also had hundreds of yards of line rope wrapped around her body, her tail, her torso, a line tugging in her mouth.
This is her story of giving gratitude.
A fisherman spotted her just east of the Faralon Islands (outside the Golden Gate) and radioed for help. Within a few hours, the rescue team arrived and determined that she was so badly off, the only way to save her was to dive in and untangle her…. a very dangerous proposition.
One slap of the tail could kill a rescuer.
They worked for hours with curved knives and eventually freed her.
When she was free, the divers say she swam in what seemed like joyous circles. She then came back to each and every diver, one at a time, nudged them, and pushed gently, thanking them. Some said it was the most incredibly beautiful experience of their lives.
The guy who cut the rope out of her mouth says her eye was following him the whole time, and he will never be the same.
May you be so fortunate …
To be surrounded by people who will help you get untangled from the things that are binding you.
And, may you always know the joy of giving and receiving gratitude.
SHARE to let everyone know about this story!!
Oaxaca and Olympics
The design chosen for Mexico's Olympic costumes.
Zapotec embroidery from Oaxaca wins competition for Olympic uniforms
The uniforms will be worn by Mexican athletes at the opening ceremonies
Published on Friday, April 23, 2021
Athletes representing Mexico at the Tokyo Olympics will wear inauguration uniforms with traditional Zapotec embroidery on the lapels after the design was selected in a national competition.
The Mexican Olympic Committee and High Life, the brand that will design the uniforms, opened the competition on April 9, inviting the public to choose among three possible Olympic uniforms, all designed by High Life.
Thousands of people voted, according to committee president Carlos Padilla. The winner was a suit featuring traditional embroidery by women of the Isthmus of Tehuantepec in Oaxaca. The uniform was made with dry-fit technology and designed with stretch jogger pants and a loose fitting suit jacket for the comfort of the athletes.
High Life will also launch a public collection of designs inspired by the Olympic uniforms.
Mexico has selected 93 athletes to compete at the games but expects to send as many as 150 in spite of uncertainty about the event due to the coronavirus pandemic. The games are scheduled for July 23 to August 8 in Tokyo, Japan.
Source: Imparcial Oaxaca (sp)