Please review this comment on Face Book by Carmita! https://www.facebook.com/100002487969007/posts/4606826276023087/?substory_index=9&sfnsn=scwspmo
COVID roundup: All adults have been offered at least one shot, health minister says
More Mexicans than expected opted to get the shots
Published on Friday, October 29, 2021
All Mexican adults have been offered at least one shot of a COVID-19 vaccine, Deputy Health Minister Hugo López-Gatell said Friday.
"With great pleasure we report today the conclusion of this important stage and the achievement of the goal we committed to," he told reporters at President López Obrador's morning press conference.
Making vaccines available to all Mexicans aged 18 and over was possible thanks to the government's Correcaminos (Roadrunner) vaccination operation, López-Gatell told reporters in Campeche.
"The largest health crisis the world has faced in the past 100 years … of course required [Mexico's] largest public health operation … of the last 100 years and that was the Correcaminos vaccination operation," the coronavirus point man said, highlighting that vaccines reached "literally every corner of the country" and that more than 300,000 people participated in the rollout.
After thanking the president, numerous officials and government departments for the contributions they made, López-Gatell said that 83% of the adult population has been vaccinated with at least one dose. All told, more than 74.4 million Mexicans have received shots, and about four in five adults are fully vaccinated.
López-Gatell described the vaccine rollout as a "complete success," noting that more Mexicans than expected rolled up their sleeves.
"… Only 62% [of Mexicans] said they would accept the vaccine," he said, citing data from the 2020 National Health and Nutrition Survey.
"An additional 10% had doubts and the rest, almost 28%, a little more than 28%, said they would reject it. But we've now reached 83% and we're continuing to persuade people to go and get vaccinated," López-Gatell said.
"… What comes next? The COVID vaccination operation doesn't stop, … we have to complete the second doses. … We also have to finish vaccinating pregnant women," he said, adding that young people will also be offered shots when they turn 18.
Although health regulator Cofepris has authorized the use of the Pfizer vaccine to inoculate adolescents aged 12 to 17, the government hasn't offered shots to that age group with the exception of youths who suffer from underlying health problems that make them susceptible to serious disease.
López-Gatell asserted that Mexico won't face any shortages of vaccines in the near future, highlighting that the government will receive a total of approximately 250 million purchased or donated vaccines.
"We thank the United States government for generous donations that were made very opportunely," he said. "Today the goal is accomplished; we've vaccinated adults," the deputy minister reiterated.
In other COVID-19 news:
• A total of 29 states are green on the new coronavirus stoplight map, which will take effect Monday and remain in force until November 14. The only states that are not green are Baja California, which is high risk orange, and Guanajuato and Aguascalientes, which are medium risk yellow.
• Mexico City and México state will remain low risk green on the coronavirus stoplight map, authorities said Friday. Both states went green on October 18.
"For the first time in the entire pandemic we're going to start a third consecutive week on the green light," said Mexico City official Eduardo Clark.
He said that the number of COVID patients in Mexico City hospitals declined by 176 over the past week to 682. Clark said that if the downward trend continues at the same rate, the number of hospitalized patients will reach its lowest level since April 2020 at the end of next week. Active case numbers have also declined from about 7,000 a week ago to just under 5,000 currently, he said.
In neighboring México state, all adults aged 30 and over have been offered two vaccine doses and all those aged 18 to 29 have had the opportunity to get at least one shot, Governor Alfredo del Mazo said.
"… This allows us to continue on a good path. México state remains on the green light [level] and this allows us to continue" with the reopening of the economy, he said.
• Morelos Governor Cuauhtémoc Blanco announced Friday that his state will switch to low risk green on Monday.
"This advance is very important but we mustn't forget that COVID-19 remains among us and we mustn't drop our guard," he wrote on Twitter.
It's the first time since the start of the pandemic that Morelos, currently medium risk yellow, will be green on the federal stoplight map.
• The Health Ministry reported 4,001 new cases and 320 additional COVID-19 deaths on Friday. Mexico's accumulated tallies are currently 3.8 million and 287,951, respectively. Estimated active cases number 29,125.
Mexico News Daily

ByYucatan Times on November 29, 2021
With The Confirmation Of A New Case This Week, There Are Already Three Dengue Cases In Yucatán Reported So Far In This 2021.
MERIDA, Yucatán, (November 29, 2021).- With the confirmation of a new case this week, there are now three of dengue cases in Yucatan reported so far this 2021.
In the Peninsula, dengue appeared in mid-March, specifically in epidemiological week 15, in Campeche.
In week 19 (in mid-May) the first case was detected in Yucatán, and later in week 20, Quintana Roo confirmed its first infection.
The first case in Yucatán was registered in Progreso and corresponded to a woman, while the second infected was detected in Mérida, in this case it was a man.
New Case This Week
This week the third case was confirmed, also in the Yucatecan capital. The gender of this contagion was not specified.
To prevent the spread of the dengue virus, the Yucatan Health Secretariat (SSY) continues with permanent fumigation efforts to control the vector, the Aedes aegypti fly.
Two Cases Of Influenza In Yucatán
Seven weeks after the start of the 2021-2022 seasonal influenza season, the federal Ministry of Health confirmed the first two cases in Yucatán, with which this virus is already circulating together with SARS-Cov-2, which causes Covid.
In 2020, at the same cutoff (epidemiological week 47), there were still no confirmed cases of influenza in the entity.
The two positive cases correspond to the AH3N2 subtype, which is the predominant strain so far, present in most infections.
As of November 25, data from the Epidemiological Surveillance System of Viral Respiratory Disease of the Ministry of Health reveal that a total of 5 thousand 864 cases of Influenza Type Illness / Serious Acute Respiratory Infection (ETI / IRAG) have been treated in the entity ), considered suspicious of the condition.
Source: Sipse
The Yucatan Times Newsroom
"Evenings by the sea" resume in Progreso (PHOTOS)
the Nov 28, 2021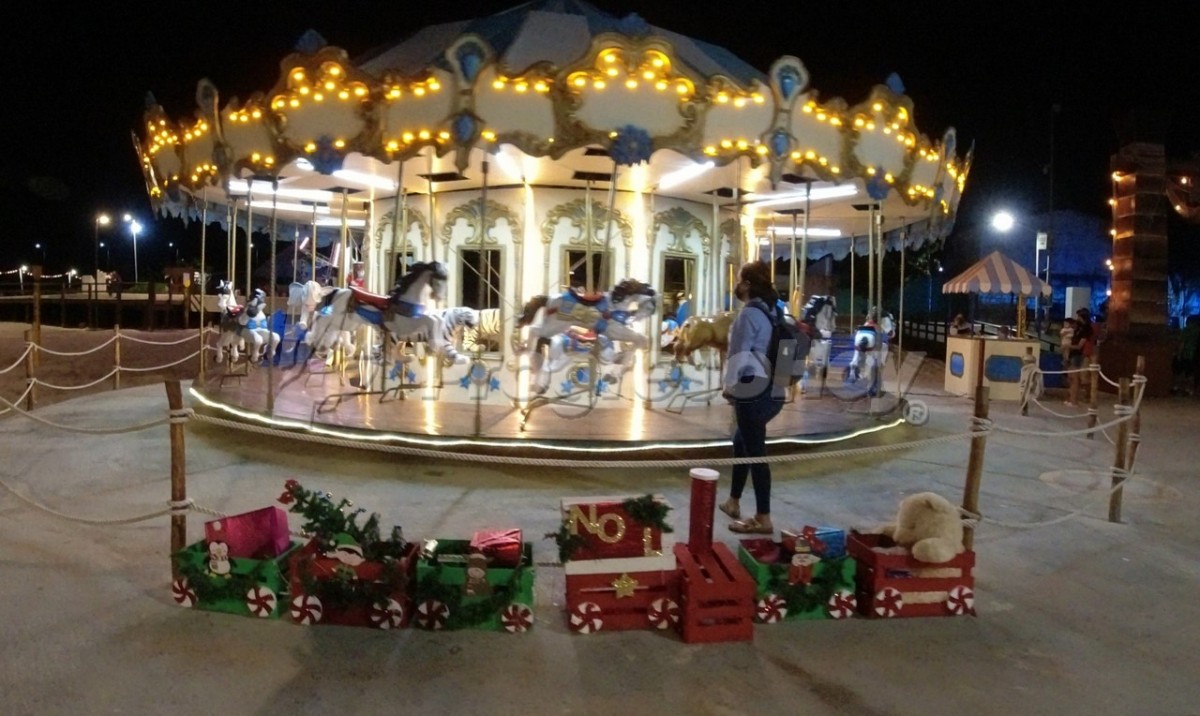 The traditional and international boardwalk looked full
THE "CHRISTMAS NIGHTS" WILL ALSO BE HELD DURING THE WEEKENDS OF DECEMBER IN THE EXPLANADA OF THE HOUSE OF CULTURE

PROGRESS.- With the presentation of various such as live music, rides, various shops, decorations with lights and the presentation of DJs, last Friday the traditional "Evenings by the Sea" were resumed, between the arches pier and the pier fishermen and a new concept called "Christmas Nights" was launched on the esplanade of the House of Culture.
These events were held with the aim of reactivating the economy in Progreso so that residents and visitors can enjoy these spaces for recreation and family life in a safe and fun way.
It was also attended by the mayor Julián Zacarías Curi, who attended accompanied by his wife Alma Rosa Gutiérrez Novelo, who toured the House of Culture and then went to the Chocolate Pier.
"The change in Progreso is noticeable, now families have activities and spaces for healthy coexistence. We are going to continue holding this type of event that the inhabitants of our city enjoy a lot, "said the mayor, according to a statement.
It should be noted that the attendees enjoyed live music, a variety of menus and a lot of fun.
To conclude, Zacarías Curi invited the community to visit the House of Culture this weekend and enjoy the variety of food, music and a pleasant family atmosphere.
«These activities are important to reactivate the economy in the city, in addition, there will be music and food stalls as part of the" Christmas Nights "that will be held this weekend and on Thursday, Friday, Saturday and Sunday in December. 6:30 to 11:00 at night ».
And he added "Let's enjoy these activities responsibly, without neglecting hygiene measures." Finished.
Beach News
Security Issues
Every year, the arrival of the snowbirds triggers a new round of breakins. The law-breaking element knows that the foreigners bring their money and electronics with them and that they often forget about taking precautions from year to year.
This is a good time to download our Security Leaflet! (That link will download a 280kb PDF file.) This document prints on two sheets of standard paper, or just keep it on your PC, phone or tablet. The leaflet gives you tips on preventing crime, and information on what to do if you're a victim.
Remember, for ALL emergencies,
CALL 911
from any US, Canadian or Mexican phone.
Progreso's New Eco-Police
With the closing of the dumps, we certainly expect that the tourists and some locals will now look to dumping in the roadways and the entradas. To minimize that happening, the size of the City of Progreso's Ecology Police Force has been substantially increased. You will see them traveling around the community on ATV's with police lights. They have full Police authority and can write tickets for any offense.
As we transition thru this period of not having dumps, we will look to everyone to help with the enforcement. If you see dumping, PLEASE report it. If you are able to take pictures of the license plates of those dumping and the product they dump and advise Ecology, we can get some results. We recently had a report with all the above information and the individual responsible has been fined. You can make a difference if you will advise Ecology. Here is their number along with some other city government numbers that may be helpful.
Ecological Police: 999 277 2190
Municipal Police: 969 103 6286
Civil Protection: 969 103-7286
DIF: 969 103-6857
Health Department: 969 103-6807