Beginning Nov.16th the market at Crocodiles starts up again!!  9-12 be sure to come and enjoy with both old and new friends.
Yucatán mourns the passing of its greatest Carnaval King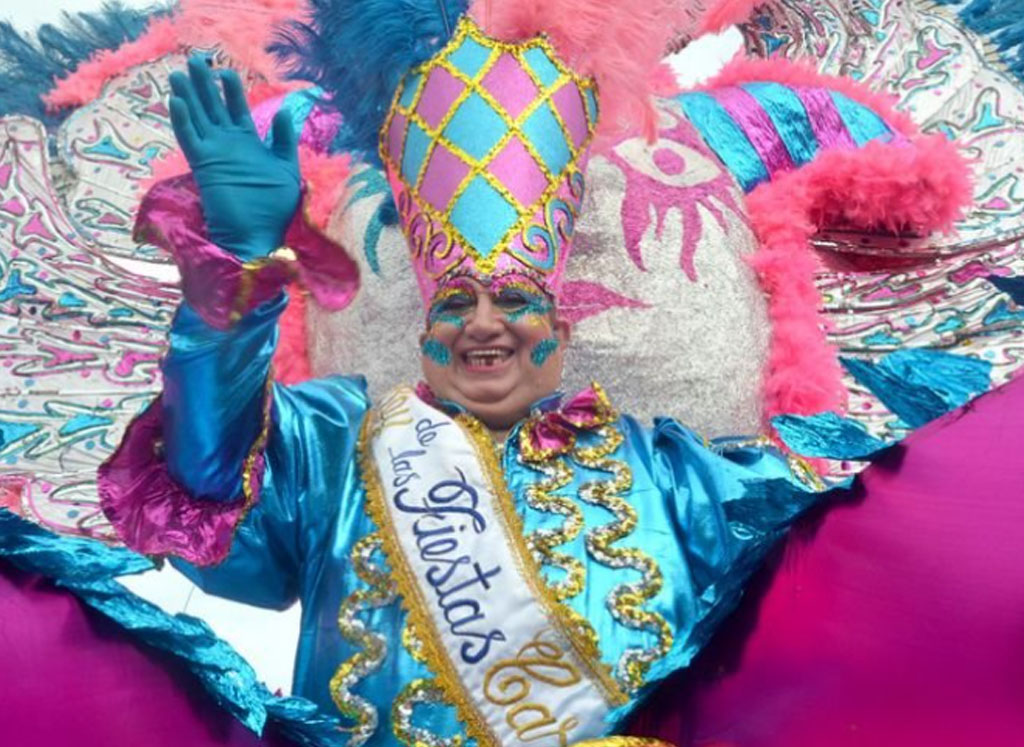 The passing of Marcelo Sanguinetti — the Carnaval King best known as Jacarandoso I — was announced on social media by family members. He was 74.
In Spanish, jacarandoso loosely translates as joyful, jovial, or outgoing.
Sanguinetti was well-loved across Yucatán for heading massive floats and bringing joy to millions of people at Mérida's Carnaval celebrations for over 40 years.
"Fly high, Jacarondoso, because today there will be a party in heaven," wrote Sanguinetti's niece, Karen Sanguinetti, on Facebook.
Sanguinetti's passing is also being publicly mourned by several public figures including Mérida Mayor Renan Barrera. In a statement, Barrera recalled how impressed he had been by Jacarandoso as a young child.
Jacarandoso I became a fixture of Mérida's Carnaval celebrations back in 1980 thanks to his exuberant personality, out-of-this-world wardrobe, and ability to connect with folks from every walk of life.
He was Mérida's official King of Carnival in 1980 and 2000, but even when he was "simply participating" in the parade, he was seen as the true king as his efforts outshone even the reigning monarchs.
In 2019, Mérida's Carnaval committee awarded Sanguinetti a lifetime achievement award and announced the opening of an exhibit in Mérida's museum featuring several photographs and some of his most iconic costumes.
Festival de las Animas: Everything you need to know by Carlos Rosado van der Gracht October 13, 2022

Hanal Pixán is one of Yucatán's most beloved and ancient festivities, so one day of celebration is simply not enough.
With Dia de Los Muertos — or Hanal Pixán, as it is known in Yucatán — just a couple of weeks away. Mérida's City Hall has announced a slate of events featuring processions, cultural events, movie screenings, food fairs, pet adoption drives, and lots more.
The Day of the Dead and Hanal Pixán trace their roots back to the traditions and beliefs and traditions of peoples like the Maya and Aztecs.
Tuesday, Oct. 25
Presentation of exhibit Waya´k Pixáno'ob by local artist, Alejandro Poot Molina, in honor of the 200th anniversary of Mérida's Cementerio General, Mérida's largest cemetery.
10 a.m. – 10 p.m., José Martí Library, Parque de las Américas
Reading of traditional folk legends by Jorge Moreno, featuring stories of mythical figures including Aluxes and the Xtabay.
8 p.m. – 9:30 p.m., Cortés Sarmiento Park
Wednesday, Oct. 26
Leaving offerings at cemeteries for loved ones who have passed over is one of Mexico's most cherished rituals.
Guided tour of Mérida's largest and arguably most impressive cemetery, the Cementerio General. The tour will include visits to selected mausoleums.
9 p.m. – 11 p.m., Cementerio General.
Traditional bicycle ride of souls with the Cicloturixes cycling club. Attendees are encouraged to bring their own bikes and wear traditional costumes and/or face paint.
9 p.m. – 11 p.m., – Beginning at Santa Ana Park and ending at Mérida's Cementerio General
Thursday, Oct. 27 through Wednesday, Nov. 2
Many homes in Yucatán build their very own altars to honor their dearly departed in hopes that they will return, even if just for a quick bite to eat. Photo: Carlos Rosado van der Gracht / Yucatán Magazine
Presentation of Mérida's massive Hanal Pixán altar, measuring over 50 feet.
10 a.m. – 11 a.m. Plaza Grande (main square)
Guided tour of the massive altar with explanations of its symbology offered in Spanish, Mayan, and English.
9 a.m. – 9 p.m.
Friday, Oct. 28
If you plan to attend the Paseo de las Ánimas you may want to think about dressing accordingly. Photo: Carlos Rosado van der Gracht / Yucatán Magazine
Annual Paseo de las Ánimas procession through several of Mérida's neighborhoods including San Sebastián and La Ermita. This is one of the largest and most attended events of the Hanal Pixán cultural calendar so make sure to arrive early if you want to get a good spot to view the procession.
6 p.m. – 10 p.m.
Saturday, Oct. 29
Like across the world, people in Yucatán adore their dogs. Pictured is "Frida" a Xoloitzcuintle who recently passed away but is well remembered by passersby on Calle 60. Pixán Pee'k (dog in Yucatec-Maya) costume contest for dogs and exhibition of altars dedicated to dearly departed canines. The event will also promote the adoption of dogs from local shelters.
6 p.m. – 10 p.m., San Sebastian Park
Reenactment of the Pok Ta Pok Mayan ritual ceremony also known as the Mesoamerican ballgame where two teams of "players" faced off, often with fatal consequences.
7:30 p.m. – 8:30 p.m., in front of Mérida's Cathedral
Leyendas del Mayab contemporary circus.
8 p.m. – 9 p.m – Santa Ana Park
Traditional day of the dead Catarinas parade and performances featuring elaborate costumes and live music. 8:30 p.m. – 11 p.m., starting on Calle 63 with 60 towards the Remate
Monday, Oct. 30
Mucbipollo is central to Hanal Pixán celebrations. It resembles a large tamale wrapped in banana leaves. It is traditionally cooked underground over a slow fire, as the ancient Maya did.

Hanal Pixán themed biciruta along paseo de Montejo.
8 a.m. – 12:30 p.m. – Paseo de Montejo, Plaza Grande, La Ermita
Mucbipollo fair featuring the sale of Yucatán's most iconic Hanal Pixán meal which resembles a giant tamale. The festival will also feature live music and presenters in costume.
8 a.m. – 8 p.m., San Sebastian Park
Mérida en Domingo themed "Pixánitos en Domingo" street market and festival featuring live music, performances, as well as handcraft and food stalls.
Noon – 3 p.m., Plaza Grande
Bicycle tour of the "ghost town" of Misnebalam, near the highway to Progreso. Tour is five miles long and includes the use of a bicycle and helmet. For reservations call: 9993-58-62-50.
5:20 and 7:50 p.m., Hacienda Xcunyá
Musical performance themed around the Disney animated feature Coco.
7:30 p.m. – 8:30 p.m., Parque de Las Américas
Tuesday, Oct. 31
Central to the idea of Hanal Pixán is the idea that underneath it all we are all the same and that what unites us is love, even in the grave.

Noche de Ánimas (Night of Souls,) at La Isla Shopping Mall featuring several attractions.
6 p.m. – 9 p.m., Las Isla shopping mall
Outdoor screening of the Disney film "Coco."
8 p.m., Vicente Solis Park
Mérida's traditional Vaqueria, themed around the Day of the Dead.
9 p.m. – 10 p.m., Mérida City Hall
Tuesday, Nov. 1
In the Yucatec-Maya language, Hanal Pixán means food of the dead, hinting perhaps to the centrality of food to the tradition.
Opportunity to place offerings at Méridas monumental Hánal Pixán Altar in memory of loved ones.
9 a.m. – 9 p.m.
Movie screening at the park of the Disney film "Coco."
8 p.m., Cholul municipal hall
Bicycle tour of the "ghost town" of Misnebalam, near the highway to Progreso. Tour is 5 miles long and includes the use of a bicycle and helmet. For reservations call 999-358-6250.
5:20 and 7:50 p.m., Hacienda Xcunyá
Wednesday, Nov. 2
Families typically adorn altars with photos of their deceased loved ones and fill them with their favorite foods, and sometimes even their favorite vices such as cigarettes and liquor. Photo: Carlos Rosado van der Gracht / Yucatán Magazine
A second chance to place offerings at Mérida's monumental Hánal Pixán altar in memory of loved ones. 9 a.m. – 9 p.m., Plaza Grande
Screening at the park of the Disney film "Coco."
8 p.m. – Cancha de Usos Múltiples at Caucel
Bicycle tour of the "ghost town" of Misnebalam, near the highway to Progreso. Tour is five miles long and includes the use of a bicycle and helmet. For reservations call: 999-358-6250.
5:20 and 7:50 p.m., Hacienda XcunyáCrime, Headlines, News, Peninsula, State News

Guacamaya Leaks reveals drug cartels presence in Yucatan October 14, 2022

SEDENA recognizes that the geographical location of Yucatan makes the State a strategic region for criminal structures.
Confidential reports that are part of the emails obtained by the group Guacamaya Leaks confirm that the southeast of Mexico is plagued by the struggles of criminal groups for the transfer and sales of drugs, and Yucatan is no exception.
In the reports, SEDENA acknowledges that the geographical location of Yucatan makes the State a strategic area for criminal structures involved in drug trafficking and illegal human trafficking, coming from Central, South America, and the Caribbean.
The National Defense Secretariat SEDENA affirms that the Pacific Cartel operates in Panabá and Tizimín, and is headed by Roberto Nájera Gutiérrez, "La Gallina" (arrested in 2017), who operates through Arturo Becerra Ancona "El Borrego".
In addition, the Jalisco Nueva Generación Cartel (CJNG) is present in Progreso and Mérida, led by an individual known as "Enzo" and/or "Chino", and focuses its activity on illicit exports of fine wood, "without ruling out that they could be importing chemical substances for manufacturing of synthetic drugs or running landing strips for drug transfer".
The La Familia Epitacio cell, headed by Nicasio Epitacio José, has also a presence in Mérida, Progreso, and Kanasín, as revealed by Guacamaya.
Drug trafficking in Progreso
But it is noteworthy that this statement, made at a press conference, went almost unnoticed: the official denounced serious drug trafficking in the middle of Progreso maritime custom, surely carried out for years, with the usual money laundering, the opening of front companies and the purchase of phantom invoices, an activity in which Yucatan occupied the first places in the country».
"It will be interesting to follow what happened with the arrest warrants against Calderón León and the progressive businessman, because they could be the tip of something much more serious, involving not only local businessmen, but also foreigners and Mexican officials "
Things must be so entangled that Andrés Manuel López Obrador 's team has responded with the militarization of customs and port administration, says Ratti Fernández.
Indeed, since the first days of this month, the new administrator of the Progreso Customs is Rear Admiral Armando Caballero Vázquez and the general direction of the Comprehensive Port Administration is in charge of Vice Admiral Jorge Carlos Tobilla Rodríguez.
"It is clear that the civilians could not with that package. Hopefully, the military will eradicate corruption and document the black and hidden history of the port and customs of Progreso ", Víctor Ratti concluded.
State government to invest 50 million pesos in the construction of the Naval Hospital in Progreso October 15, 2022

During the inauguration of the 58th Ordinary General Assembly of the Heroic Naval Military School Association andin the presence of the Undersecretary of the Navy, Admiral José Luis Arellano Ruiz, Vila Dosal indicated that the injection of resources will speed up the construction of this hospital, which will expand public hospital care, not only for members of the Navy, but also for the civilian population in the area.
"This is how we are building the Yucatán we long for, with equal opportunities and demonstrating that when we work as a team there is nothing that can stop us, because of this way of working, today in Yucatán important things are happening," said Vila Dosal at the ceremony held at the "Armando Manzanero" theater in this city.
This project is part of a collaboration agreement between the State Government and the Secretary of the Navy, which will benefit 8,378 inhabitants of the area with a hospital that will have an installed capacity of 30 beds, as well as basic gynecobstetrics, pediatrics, internal medicine and general surgery services, as well as diagnostic support services such as laboratory, X-rays, ultrasound and mastography. Once completed, this hospital will also offer emergency and outpatient services for the aforementioned specialties, as well as operating rooms, a hemodialysis area, and a neonatal intensive care unit.
During his message, the Governor recognized the invaluable work of the naval forces for their support in emergencies, for defending the integrity, independence, and sovereignty of the nation, always guaranteeing our security, but also our development and benefit, without any interest other than the duty fulfilled.
"In Yucatán, we have an exemplary governance scheme in which decisions are not made by one person, but by a team; it does not matter what political party we belong to, what matters is that we deliver results and we are convinced that when we work in coordination with the three levels of government and the 106 municipalities is when we have the best chance of delivering results and in the Semar, we have always found an important ally," said the governor.
Vila Dosal highlighted the participation of the Navy as part of the State Roundtable for the Construction of Peace and also of the multidisciplinary justice working group where regular meetings are held and agreements are reached as a team to reinforce security in the state.
Visit the "all-new" Malecón in Progreso Yucatan Times October 12, 2022
Oh, what a joy it is to visit Progreso! It is truly an experience that you must live. Besides walking downtown or visiting its market and trying some of the best seafood restaurants, Progreso offers one of the most amazing sites to admire its beautiful beach by walking down the Malecón.
Malecón de Progreso.
When you arrive to the malecón you'll find self-service stores where you can buy some snacks and refreshments to be a part of your day. If you are looking for a more nutritious or exotic food, do not worry! The malecón is full of delicious seafood restaurants and Mexican food, do not hesitate to try the unique Progreso's flavor.
What I love most about the malecón is that you will find many stalls and street vendors who sell numerous types of snacks, such as marquesitas, esquites, cocadas, merengues, or if you're in the mood for a healthier snack, there are also glasses of fruit, chopped, such as mango, jicama or cucumber, and so much more!
Something very characteristic when visiting the malecón is definitely trying the famous "piñas locas", a fruit cocktail with juice, chamoy and tamarind flags inside a pineapple and if you're a fan of micheladas, this is the best place to get them.
Let's talk about the iconic things you must look for during your visit.
The famous "Casa del pastel", which as its name says, it looks just like a three-tiered cake.
The huge letters that spell out "Progreso", take as many pictures as you want!

There is a place where events and mechanical games take place, such as carousels and a Ferris wheel where you can see the beach from above. There is also an Inclusive beach, dedicated to people with disabilities so that they can experience the beach like never before

Carousel en el muelle.
Recently the malecón has been extended and it now has a new part called "muelle de chocolate", where you can find even more food stalls like a hot-dog one. If you are visiting it with your family, you can check out the kid's playing area and show them some of the magnificent statues the muelle de chocolate offers, such as a flamingo's spot or a soccer ball statue, there is also a huge copy of a whale fossil, isn't it cool!?
You can visit this amazing place walking or riding a bike, you can go early morning to se the sun come up, or later afternoon to watch the sunset or even better at night, where up from above the ferris wheel, you get to experience the beautiful lights from the town and the lighthouse light that guides the navigators.
Progreso Geology Museum
Estudio MMX "consciously synthesizes" Mayan and contemporary architecture for Yucatán museum

Mexican architecture firm Estudio MMX has unveiled the Progreso Museum of Geology, which is made of multiple structures clad in a finish called chukum that dates back to the Mayans. The studio said that the material was chosen for its durability and low maintenance costs.
Mexico City-based Estudio MMX created the museum based on a gridded pattern for the beach-side site in Progreso – a town near Mérida that sits on a slip of land on the coast of the Yucatán Penisula in Mexico.
"The design of the volumes and their arrangement in the public space generate paths accompanied by light, shadow and vegetation that give the square a new character rich in experiences that evoke ideas of Mayan architecture along with the colonial heritage of the urban layout," said Estudio MMX.
"The museum consciously synthesizes local Mayan knowledge with contemporary architectural approaches, thus generating a new identifiable and appropriable public space for the people of Progreso."
Volume with pool and woman walking
The museum has a variety of covered and open-air volumes
The lot was divided into a series of squares oriented around a central corridor. Volumes of different heights radiate out from the centre of the site, varying between terraces and single and double-height volumes.
"The different parts of the program are consciously related to each other and to the context, through different environments in the open space," said Estudio MMX.
Arched forms for Progreso Museum
Triangular forms were used throughout
The raised gardens form a path on top of the complex, over the roofs of the covered elements of the site, creating a terraced walkway from one corner of the site to the other, where they step down to ground level.
The other diagonal axis is occupied by taller structures.
Casa Nicte Ha by Di Frenna Arquitectos

Underneath the roofs, walkways flow through the spaces, winding through open-air sections with pools and gardens.
The covered program of the structure, the eight volumes on the southeast side, is where the primary collections are held. The spaces flow into each other and can be used for exhibitions of various sizes.
MÉRIDA and COVID.- Given the reduction in the number of infections and deaths from Covid-19, the Yucatan Ministry of Health reported that, starting next Monday, September 26, the use of face masks will be voluntary , with the exception of hospitals, health, medical units and public transport, where it will continue to be mandatory; in addition to the fact that the State Epidemiological Traffic Light, which is in green, will no longer be issued, and the figures on the behavior of Covid-19 will be updated fortnightly on the website of the state agency.
Use of the face mask in Yucatan, voluntary
In a statement, the State Government indicated that since last May 12, the voluntary use of face masks in open spaces, except in closed places, as well as in public transport, and also the removal of sanitary filters to the entrance of each place and are only kept when entering the schools.

Who Knew
Mérida is home to Mexico's 9th busiest airport, but new investments suggest it could be moving up the rankings.
The Mexican low-cost airline, VivaAerobús, has just announced that it will be making Mérida its next major hub of operations.
The announcement comes as Mérida's airport continues to make strides, both in traffic and the addition of new domestic and international flights.
"We see great potential in Mérida, not just in tourism, but also in the growing industrial sector, so it just makes sense for us to make this move," said Juan Carlos Zuazua, director of VivaAerobús. VivaAerobús began operating in 2006 with 3 aircraft at its hub at Monterrey International Airport in Nuevo Léon Mexico. Since then, the airline has grown its fleet to 62 aircraft with operations in Mexico, The United States, and South America.

The investment on the part of VivaAerobús in Mérida's Manuel Crescencio Rejón International Airport, combined with silence on the part of the state government, suggests that plans for a new airport have been shelved — at least for now.
Plans for the proposed new airport in Umán come with a reported price tag of 10 billion pesos, roughly US$500 million.
VivaAerobús is not the only airline upping its investment in Mérida's existing airport, as other domestic and international airlines like Volvaris and TAG continue to expand their own operations out of Yucatán's state capital.
"Mérida continues to grow in importance both at the national and international level, and this reality is reflected in increasing investment in the entire state," said Yucatán Gov. Mauricio Vila Dosal.
In March, Mérida's international airport registered nearly a quarter of a million passengers in a single month, an all-time record.
Mérida's airport currently ranks as the 9th busiest in the country, with facilities in Mexico City and Cancún taking first and second place.

Baja California
I have a friend in LaPaz and asked that I post this information for those interested in visiting. There are many folks there from Yucatan. https://www.instagram.com/lazzodetinto_la_paz/

The Aluxes of Yesterday and Today
How do you explain to a child what an Alux is? Or who the Aluxes are? I try to find an answer for two little girls with Yucatecan roots living abroad. My first impulse is to tell them they're mythological creatures, like gnomes. But the only gnome they know is the chubby, bearded, short figure with an old man's face that decorates (protects) their neighbor's front yard. And leaving out some aspects of this description, the similarity doesn't go much further.
In Maya belief, the Aluxes – or Aluxo'ob (the plural from the Maya language) – have multiple representations and origins, depending on the Maya region where they're located or who the researcher's source is. For example, one of the myths tells that the Aluxes are the "people of the first humankind," who built the great cities before the sun rose. These beings, of short stature and great wisdom, would turn to stone at sunrise and recover their state at sunset. This would explain why they are present at night rather than during the day.
According to Ella Quintal (INAH researcher), another myth goes that, in that time of darkness, stones had no weight and could be moved by whistling. This would also serve as an explanation on how the (massive) Maya temples were built.
Nowadays, Aluxes are believed to live in natural settings (such as cenotes, caves, and milpas) and Maya temples. They are their guardians and protectors, beings that deserve our respect. People who have seen them say that the Aluxes are so short that it's easy to mistake them for children, and that they are made of wind. The rituality around them persists to this day. Those of us who have heard or experienced their mischief know the importance of following tradition, as they are very capable of sending sickness through "bad wind" and only a J-men (wise man, or "Hacedor") has the ability to determine the cure for this type of illness.
Milpa – Ek Balam Let's talk about the milpas, the large plots of land where crops are grown. If you venture on those roads and talk to the Milperos or their family, you'll hear genuine adventures, going from voices, whistles, noises of children playing at dusk, and "good" whirlwinds that protect wanderers, to rituals to request the Aluxes' help for a thriving harvest and protection from thieves. To keep them happy and calm, it's necessary to make an offering during sowing time. Others say that Aluxes will protect and grant good harvests for seven years, but that, afterward, they should be locked up in their sanctuary-home to prevent their uncontrollable mischief. Be very careful.
Other places to encounter Aluxes are caves and archaeological sites. Are you going to enter a cave? Is archaeological work starting near temples or places with vestiges? You should ask for permission. And if you visit a cave or archaeological site, please, no matter how tempting and insignificant it may seem, do NOT take anything with you. Not even the plainest rock. More people than I would like to know have said that, after taking a trinket, they began to be victims of their pranks. The most recent story I've heard involves Gruta Chocantes (in Tekax) and a family from Mérida who had to come back to return three stones. They couldn't sleep at night, nor stop seeing "little people." Hearing this, and not knowing about the stones, a J-men told them to return what they had stolen.
It may seem that Aluxes are evil creatures; however, they also like to help. About ten years ago, a woman in Sisal – after not being able to see a doctor at night – received a small bag of natural ingredients to brew a remedy for a stomach ailment. Their helper looked like a "very old lady" of very short height, dressed in a Hipil, who seemed to come out of the bushes near the Health Center. The woman was warned she would be in deep pain immediately after drinking the concoction, but that she would later feel better, and that's exactly what happened. The next morning, no one could give her any clue as to who the old lady was, and the woman was advised to make an offering in gratitude.
As you can see, Aluxes are a part of daily life in the Yucatecan communities, protecting our trails and the homes of people from another era. If you go into their domain, don't forget to offer your prayers.
KAUA:
Before the advent of the toll road, highway 180 between Cancún and Mérida was the only route available between the southeast's financial center and the burgeoning tourism destination. Women in many of the towns along the road began to offer travelers something to eat and drink to break up the long, monotonous drive, an activity they continue to this day with roadside stands and fresh fruit at each of the over 100 speed bumps.

Kaua is one such town. And Doña Antonia Noh Poot is one such woman.
While still a young woman and armed only with her enthusiasm, she began offering licuados (blended drinks) in two flavors: banana and ChocoMilk (a local powdered chocolate drink) These became popular and she expanded her offerings to include Huevos Encamisados, a recipe she had learned from her mother and which she made particularly well.
La verdadera tía de Kaua – Antonia Noh PootHuevos Encamisados are eggs, usually from a backyard chicken, cooked inside a thick, hot corn tortilla made with corn from the milpa. You really can't get any fresher than this. Huevos Encamisados, Antonia recalls, were what her family lived on during the days and weeks without electricity following the destructive passing of hurricane Gilberto in 1989.
Back to the Encamisados. These were so popular that truckers – up to 170 a day passed through the town in pre-toll-road days – would stop at her place as early as 4:30 am to ask for her famous Encamisados, which they, to keep things light and jovial would call huevos sin calzones (eggs with no underwear) which was humorous enough to get Antonia into the kitchen. She then expanded her menu thereby creating a larger clientele, by offering a local specialty: Poc Chuc. And while the marinated and grilled pork is the namesake of her kitchen, the real stars on her menu are her sublime and deceptively simple black bean soup, and the most enormous, fresh, hand-patted corn tortillas. This simple menu is extremely satisfying.
After 11 years at her original, rented location, Antonia thought it time to move to a place of her own in Kaua, which she found, just across and down the road. The owner of the space now vacated by Antonia, decided to take advantage of the reputation the place had acquired over the years and offer a very similar menu, and the place remains as popular as ever, judging from the number of vehicles parked in the immediate vicinity… but, you won't see Doña Antonia in the kitchen.
Cocinando Poc Chuc – Cooking Poc Chuc – La verdadera tía de Kaua – Antonia Noh PootPoc chuc – La verdadera tía de Kaua – Antonia Noh Poot

Following this example, several other local enterprising families got into the act, using the same menu items and calling themselves some variation of La Tía. There is a Tía Lizbeth, Tía Panchita, and others and even a few Tíos! The fame of the food and the Tía has spread to neighboring Cuncunul, Valladolid, and even as far as Bacalar, Quintana Roo: all places where you can now find a Tía of some kind offering the same menu as the original.
So, when you get to Kaua, how do you know which one to choose and more importantly, which one is the "real" Tía? And what's up with those Tíos – are they even legit?
Cooking – Cocinando – La verdadera tía de Kaua – Antonia Noh PootIt is very likely that all these other restaurants are perfectly fine, the food perfectly good, and the owners perfectly charming people. But the food and flavor that Doña Antonia dishes out is the real deal. With the help of a few employees and family members – grandson Rodolfo speaks English very well – she churns out her delicious poc chuc, that amazing black bean soup accompanied by cilantro, radish and limes, a spectacular Salsa de Tomate and her famous tortillas. There are of course, still, the huevos Encamisados that started it all, and a roasted (in the fire, directly) Longaniza sausage. Also, be sure to ask if there is the smoked pork skin which comes to the table as a lovable, almost huggable chunk of pork fat, to be savored in one of those tortillas with a dash of salt. Your heart and your arteries will protest but your palate will be in heaven. You should probably wash it all down with some home-made horchata which comes in a massive container to keep you well hydrated.
So if you were curious to know the story behind all the Tía business in Kaua, here you have it.
Doña Antonia's enthusiasm and energy, at 74 years old, is unabated and she is happy to chat while she continuously forms perfectly round, oversized golden circles of deliciousness, and if you ask, will pose confidently for a photo or three.
If you are passing through, please do stop and say hello and have something tasty to eat! La Tia is about 3/4 of the way through Kaua, on the right side, and almost at the town exit, when coming from Mérida. Look for the sign that says: La Tia. La Verdadera desde 1973. That is your sign to stop.
*Note: a "tía" is technically an aunt, but in Yucatán she is also the trusted lady next door or the mother of your friend from school. It's a term of respect as well as potentially being a member of the family. The same applies to Tío, which is the masculine version.

A Yucatecan born in Germany and raised in Canada, with a degree in Hospitality and Tourism from the British Columbia Institute of Technology. Ralf has experience in leisure tourism, journalism, research, editing, writing, and creative writing. He's also a musician. Electric Calesas, a New Option to Discover Mérida
As a new way to discover the city, the Ayuntamiento de Mérida has launched a promenade in electric Calesas (horseless carriages). This new service allows visitors to discover the White City's most iconic streets, buildings, and monuments.
This innovation brings a new service to our residents and visitors and gives rise to more and better means for sustainable tourism in the city.
Mérida's first six electric Calesas give 40-minutes touristic tours. They depart from two different locations: one in front of the Casa de Montejo, in Calle 63 x 60 y 62, Centro; and the second, from Paseo de Montejo x Avenida Colón, next to the Ayuntamiento de Mérida's tourist information module.
Mérida – Calesas eléctricas – ElectricOn board, you'll see the greatness of Mérida's buildings and emblematic spots. Among them, the Ateneo Peninsular, the Pasaje de la Revolución, the Catedral de San Ildefonso, the Teatro Peón Contreras, the church and park of Santa Lucía and Santa Ana, the Paseo de Montejo Avenue, the Casas Gemelas, the Museo Regional de Antropología de Yucatán Palacio Cantón, Montejo 495, the Quinta Montes Molina, the Casa Peón de Regil, and the Monumento a la Patria.
With seats for up to four people and at $400 pesos per Calesa, the visitors can take a tour through the history of the city. The tour is available any moment from 9 am to 11 pm, all week.
The arrival of this new electric Calesas showcases Mérida as an innovative, modern, sustainable, and friendly city for the environment and the fauna. This shows its ability to adapt to the changes happening in the world, at the same time promotes traditions while guaranteeing its long-term presence.
Mérida – Calesas eléctricas – ElectricMérida – Calesas eléctricas – Electric
For this first stage, the city has six electric Calesas; if you want to live a new experience, check out the page: www.visitmeridamx.com and enjoy a new way to fall in love with Mérida.
Ford México celebrates first car to be made only by women. Monday, August 29, 2022

The electric vehicle is progressive in more ways than one. Mexico's automobile industry has a new achievement to celebrate after Ford México revealed its first car made exclusively by women.
The Mustang Match-E, a battery electric compact crossover SUV, has been built exclusively by women since 2020 at a Ford plant in México state.
During a visit to the plant in Cuautitlán, accompanied by Ford México CEO Luz Elena Castillo, Foreign Minister Marcelo Ebrard said the factory was Ford's most productive worldwide before boasting the all-female feat. "Another very interesting thing is the manufacture of this vehicle. It's the first one manufactured exclusively by women. For the first time in the world all the manufacture of the vehicle is done by women," he said.
Ebrard added that there are also women working at managerial levels at the factory and praised the company for its forward thinking ethos. "The gender perspective of Ford is very good. We are very happy that Mexico is exporting and producing these vehicles that are not the future, they are already the present," he said.
Photos on the foreign minister's social media show one of the Mustang Match-E vehicles, decorated with an image of a woman wearing a bright flower in her free flowing purple hair. The car's design also bears the logo of Warriors in Pink, the company's initiative to fight breast cancer.
Ebrard also looked ahead to September 12 for the High-Level Economic Dialogue (HLED) talks with a U.S. delegation. He said the government would unveil its strategy to convert half of the cars produced in the country to electric. "By September 12 we will know what the route is, what the next steps are and who has to do what. [That goes for] all the companies in the automotive sector, the entire energy sector of Mexico including the Federal Electricity Commission, and … the government," he said.

Surviving Yucatan
Yucatan's COVID Cases Returning to pre-Omicron Levels … Fourth Wave is Over. yucalandia Aug 16
We are now back to just under 500 new COVID cases in Yucatan State.
This likely means it's safe to get back to ordinary life when out of doors, yet wearing masks when indoors with strangers.
* * * * * * *
Get educated … Stay informed … Stay healthy …
Dr. Steven M. Fry
Yucatan Police Cracking Down on Expired License Plates,
yucalandia Aug 16
If your Yucatan license plate has a green stripe and a pyramid at the top, it's high-time to get new plates.
Expired Yucatan Plate from 2021
If your plate looks like the plate above, the Yucatan police have already arrested over 3,200 drivers for driving on expired plates like these with the pyramid.
Per this morning's Diario de Yucatan report (amd Google Translate):
"As of September 1, any car, bus, truck, motorcycle or trailer that circulates with expired license plates will be subject to an infraction and will be transferred to the corralón based on the current Traffic Law .
For this reason, the state police personnel, located at the speed, breathalyzer, polarized and security checkpoints , will continue to hold for a few moments the vehicles that circulate with expired license plates to make the exhortation to their drivers."
IF however your plate does not have a green stripe & pyramid at the top, looking like the plate below, then your plate is good until at least Dec. 31, 2022:
Yucatan Plate that is valid for 2022
The process for getting new Yucatan plates can be renewed online at the SSP website, including paying with a credit card … or you can go to the SSP office behind Costco in Merida.
Happy Trails.
Read On … MacDuff !Video on Red Tide and Museo.
https://yucatanmagazine.com/video-red-tide-in-progreso/
Pig Beach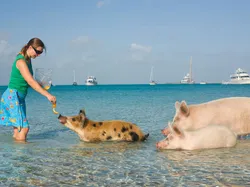 The Progreso City Council chaired by Mayor Julián Zacarías Curi, through the Ecological Police Unit, reports that one year after the opening of the tourist attraction known as "Pig Beach", the constant maintenance of the facilities, and the good care of the animals have allowed not only the animals to grow in favorable conditions, but it has also become a space of interest and recreation for thousands of families.
That is why the first mayor, accompanied by the municipal officials Claudette Gamboa Rassam and Karim Dib López made a tour to analyze the possibilities for this place to be more attractive, spacious, and above all, kind to nature and to animals.
Since its opening a year ago, on August 15, 2021, "Pig Beach" has been widely accepted by local and national tourism, and being widely visited, however, it has been in this summer season where the attendance numbers have reached a figure of more than one thousand people per day.
This reflects the wide interest that this space has, in addition to the extensive care and great love that is given to the pigs every day.
It all began when eight little pigs were rescued in July 2021 along with her mother in a vacant lot, where she unfortunately died and the small animals began to be cared for by the agents of the Ecological Police.
Subsequently, the recovery of the entrance to the beach that would become their home was carried out, which was an irregular garbage deposit, where a total of seven waste dump trucks were removed, to later carry out a deeper cleaning in the area, leaving the site in adequate conditions for its use, and which has even been certified as free of cigarette butts by the relevant health authorities.
Finally, the place was given a new look, first with the construction of a pen for the pigs, spaces for the caretakers, a souvenir shop, lounge chairs, and umbrellas, making the space a safe place for the animals and more attractive for visitors.
Canine and Feline Sterilization Campaign in Progreso
By Yucatan Times on July 29, 2022
Once again, the Canine and Feline Sterilization Campaign was held at a low cost, where dogs and cats underwent surgery with prior appointment, which was organized by the H. City Council chaired by Mayor Julián Zacarías Curi, through the Environmental Education Unit.
Doctors from the Planned Pethood veterinary hospital participated in this activity, which was held at the facilities of the Civil Association for the Health and Protection of Dogs and Cats.
The Environmental Education Unit, by order of the mayor, offers low-cost sterilizations that minimize the procreation of dogs and cats in the streets, and thereby protect animals from unnecessary suffering and from contracting certain diseases.
In recent months, a massive event was carried out where more than 500 pets underwent surgery, so the response of citizens has been positive to this strategy.
The cost per dog or cat in these days was $150 for cats and $250 for dogs, in order to cover the supplies that veterinarians use at the time of sterilization.
It is worth mentioning that the objective is to reduce the overpopulation of animals in Progreso and its police stations, so responsible owners are invited to bring their pets to this day.
With these actions, it is invited to raise awareness of the care that must be taken with pets, giving them a better quality of life.
The Yucatan Times COVID Updates on Vaccination, Boosting, Long COVID for Even Mild Cases, and Best COVID Treatments. yucalandia Jul 29
July 29, 2022 COVID Updates:
It has been a very busy past 3 days in COVID scientific news reporting, with no less than 5 critical updates. Summary:
~ As many as 1 in 5 Americans are now experiencing long COVID, even asymptomatic COVID patients and COVID patients with only mild symptoms.
~ The FDA & CDC have cancelled this summer's COVID booster campaigns, asking people under age 60 to instead wait until this Fall's anticipated release of new COVID vaccines that are targeted to work on Omicron BA.5
~ The US Govt just announced it is buying 66 million doses of Moderna's new "Bivalent COVID-19 Booster", that targets Omicron BA.5, is now scheduled to come out this Fall.
~ Because so many Americans are experiencing long COVID symptoms, CDC & FDA & top epidemiologists are saying that taking anti-viral drugs even with mild COVID infections may be the best option for stopping long COVID.
~ Because neither the vaccines nor the boosters are working well to stop BA.5 & BA.6 transmission, the best solutions right now are wearing tight-fitting masks & Socially Distancing by at least 8 ft when eating and drinking with masks off.
The US Governement has cancelled it's planned summer booster campaigns, because even the current vaccination & boosters are not working to stop COVID BA.5 & BA.6 transmission, CDC officials are cautioning people under age 60 to NOT get boosted now, and to instead wait until this Fall when the new vaccines for Omicron BA.5 come out.
The CDC & DOD have just this morning announced that Moderna's "Bivalent COVID-19 Vaccine Booster" is working well against Omicron BA.5 in trials, so they have just signed contracts for 66 million doses of Moderna's new "Bivalent COVID Booster".
Further, study after study for the past year are showing long COVID patients who had only mild symptoms are too consistently showing long-term elevated T-Cell levels that cause ongoing significant inflammation. These nasty long COVID effects are caused by even asymptomatic & very mild COVID infections. This means ANY COVID INFECTION is too often harmimg people.
Long COVID Problems are Worse than Expected:
Finally, because BA.5 & BA.6 have unusually high R0 values of 16 – 18 (where one patient infects 16 – 18 other people), top epidemiologists are saying that taking antiviral drugs to reduce T-Cell levels is the best current option for people with even with mild active COVID infections and for people with long COVID.
https://journals.plos.org/plospathogens/article?id=10.1371/journal.ppat.1010359 and
https://www.frontiersin.org/articles/10.3389/fimmu.2022.886431/full and
https://www.hhs.gov/about/news/2022/07/29/biden-harris-administration-secures-66-million-doses-modernas-variant-specific-covid-19-vaccine-booster-for-potential-use-in-fall-winter-2022.html
Because having a prior COVID infection is providing no protection from getting the current COVID strain (Omicron BA2+), and because having vaccinations provides only some protection from serious COVID symptoms & hospitalization … we really MUST return to wearing tight fitting medical grade N95 or better masks and using 8 feet of social distancing inside buildings to reduce our inhaled COVID aerosol loads from infected people talking.
The wrong mask to wear ** … Use only N95 or better masks.
Scientific Factual Conclusions:
Except for protection by wearing tight-fitting masks & Socially Distancing, unfortunately Omicron COVID is rewriting most of what non-scientist Medical Doctors have been telling people. Many so-called 'experts' told us that COVID would supposedly mutate to milder & milder, supposedly less contagious strains. This has proven to be absolutely false.

July 2, 2022
The U.S. Department of State has an important message for American citizens traveling in the long term, or who are due to fly internationally soon. Starting in July, expired U.S. passports will no longer be considered valid documents when returning to the United States, as certain pandemic-era measures are due to be revoked.
Throughout the Covid crisis, the U.S. Government allowed Americans who had been stuck abroad indefinitely, and whose passports might have ceased being valid amid the never-ending cycle of restrictions, to travel back home on an expired document. The ordinance had been extended a number of times, while travelers still faced a high degree of travel unpredictability.
Now that Covid is close to being considered an endemic disease, and a majority of travel curbs have been loosened, the U.S. is finally revising this once-lax travel policy:
Message for U.S. Citizens
Americans Will Be Denied Boarding If Their Passports Are Not Valid as of July 1
As those who have been closely following the latest updates on the websites of major U.S. Embassies lately will already know, after June 30, 2022, U.S. citizens who remain overseas with an expired passport will no longer be able to use it as a travel document for returning to their home country. Instead, they are now urged to apply for a new passport.
Since the announcement was made, several U.S. Embassies around the world were quick to update their own travel guidance, including the American diplomatic missions in the Dominican Republic, Mexico, France, Germany, and several other countries. As early as July 1, only passports that meet expiry requirements will be accepted.
In a message to U.S. citizens holding an invalid travel document and who are abroad at the moment, the Embassies have collectively advised them to seek assistance in obtaining a replacement passport ahead of traveling. As the U.S. Embassy in Albania reiterates, Americans are eligible for 'temporary passports' in cases of emergency travel.
US Embassy In London, England
These passports can be issued when a travel date cannot be postponed, and the time required for applying for a regular passport would prevent departure. In these situations, they should contact an official U.S. representation in the foreign country they are in – whether it's Albania or any of the aforementioned nations.
The application process may vary, but same-day issuance is usually available on a case-by-case basis. Nevertheless, Embassies remind travelers that, in 'certain circumstances, additional information may be required, or they may refer cases to the Department of State for further evaluation. For that reason, they are warned against making travel plans in advance.
Change In Travel Rules Follows A Global Reopening Trend
Prior to the tightening of the rule, all U.S. citizens qualified for travel to the United States on an expired passport, so long as the flight back was a 'direct return', or included a short-term, air-side transit in a foreign country. U.S. authorities only required that the document had previously valid for a total of 10 years, from the date of issue, before expiring.
In spite of the positive trend, Americans are reminded holding valid passports is the main prerequisite for international travel – and, soon enough, for entering the United States. Lastly, all travelers are urged to enroll in the Smart Traveler Program (STEP), including U.S. nationals that are abroad.
STEP is a free service allowing Americans that are either traveling for extended periods of time or living in other countries, to register their trip with Embassies or Consulates that are closest to them. This will help U.S. officials assist them during unforeseen events, and strengthen communication between both parties.
The U.S. Department of State reaffirms Americans will be denied from boarding a plane when attempting to travel to an international destination without valid documentation. As pre-pandemic regulations are reinstated, the best option here is to get a passport, or renew an expired one, as soon as possible.
U.S. citizens can apply for new passports using this link.
Source: traveloffpath.com

Mexico Daily PostThe month of July begins with 30 new infections in
This is the medical report for this Friday, July 1:
The application of the fourth dose of the Coronavirus vaccine continues, to people between 18 and 39 years of age in Mérida, a process that will take place until Saturday, July 2, and with which Yucatán continues to advance at a good pace, reported the Ministry of Health. of Yucatan (SSY) and the Ministry of Welfare.
In Yucatan, the mandatory use of face masks in open spaces is withdrawn. The measure is maintained for closed spaces and public transport. It is recommended, as a preventive measure, the use of face masks in older adults, with comorbidities that put their health at risk or who present symptoms of a respiratory disease.
As has been pointed out, in the economic reopening the most important data are hospital occupancy and daily admissions. Today we have 36 patients in public hospitals.
106,975 patients have already recovered: they have no symptoms and cannot be contagious. This figure represents 89% of the total registered infections, which is 119,562.
Today 496 new infections of Coronavirus were detected.
255 in Merida, 48 in Valladolid, 33 in Tizimin, 30 in Progreso, 28 in Kanasin, 23 in Uman, 9 in Tekax, 6 in Acanceh, Izamal and Motul, 5 in Cuncunul, Ticul, 4 in Hunucmá, Tecoh, Timucuy, 3 in Muna, Oxkutzcab, Uayma, 3 foreigners, 2 in Baca, Chichimilá, Espita, Samahil, Teabo, 1 in Cacalchén, Conkal, Dzidzantún, Dzilam González, Río Lagartos, Suma, Tinum, Tzucacab
Of the 119,562 positive cases, 798 are from another country or another state.
THE YUCATAN MUNICIPALITIES WITH THE HIGHEST NUMBER OF INFECTED PEOPLE ARE (accumulated cases as of June 30):
Merida 75,203, Valladolid 5,462, Kanasin 5,069, Progress 3,499, Uman 3,146, Tizimin 2,629, Title 2,121, Hunucma 1,707, Motul 1,557, Tekax 1,363, Maxcanu 1,126, Izamal 1,041, Acanceh 1,006, Concal 849, Tixkokob 762, Breastplate 454, Oxkutzcab 430, fearful 381, Chemax 353, Samahil 351
THE COLONIES OF MÉRIDA WITH THE HIGHEST NUMBER OF PEOPLE CONFECTED IN THE LAST 14 DAYS ARE:
John Paul II 189, center 140, Caucel City 105, Park 69 Subdivision Salvador Alvarado East 51,Chuburna Hidalgo 50, Felipe Carrillo Port 48, Francisco De Montejo 46, Polygon 108 45, Arch 38, Fractionation The Heroes 37, Emiliano Zapata East 35, Mayapan 29, The Americas 25, Melchor Ocampo 25, Mulsay, Pensions, Las Brisas 20, Diaz Ordaz 18, Industry 16
THE MUNICIPALITIES OF YUCATAN WITH THE HIGHEST NUMBER OF CASES DIAGNOSED IN THE LAST 14 DAYS ARE:
Merida 3575, Kanasin 218, Valladolid 188,Progreso 181,Uman 159, Tizimin 104, Motul 100, Concal 61, Hunucma 54, reachh 40,Title 39, Izamal 36, samhil 25, Tixkokob 22, Tekax 19, Chichimila, Oxkutzcab 13, Maxcanu 11, Scary 8, Cacalchen 7
THE MUNICIPALITIES WITH THE HIGHEST NUMBER OF DEATHS FROM COVID-19 ARE (accumulated cases as of June 30):
Merida 3,891, Valladolid 280, Kanasin 189, Uman 171, Progreso 151, Tizimin 147, Title 144, Motul 137, izamal 91, Oxkutzcab 88, Hunucma 85, Tekax 79, Accessh 66, Maxcanu 65, Concal 49, Scary 48, mune 45, Tixkokob 42, Tech 38, Chemax 36
Specifically, in Mérida, 75,203 people infected with Coronavirus have been diagnosed (accumulated cases as of June 30), who live in:
19,568 in the North zone, 8,326 in the East zone, 7,132 in the downtown area, 12,043 in the South zone, 18,134 in the West zone
No deaths are reported in this medical part.
In total, there are 6,944 people who have died from the Coronavirus.
Of the active cases, 5,607 are stable, isolated, monitored by SSY medical personnel; have mild symptoms.
As already mentioned, 36 of the positive cases are in public hospitals and in total isolation. There are other patients awaiting diagnosis.
The age range of the cases is from 1 month to 107 years.
THE WEEKLY INDICATORS OF THE STATE HEALTH TRAFFIC LIGHT ARE GREEN.

Dear supporters of the Merida English Library,
The Library has a special opportunity to give back to the community this season. With the support of the US Consulate, we have developed a program called the English Practice Mentorship, which is intended to improve the English-language job-seeking skills of students at local colleges and universities. Students in the Yucatan do not have opportunities to practice their English, in particular, to focus on activities that would better enable them to secure jobs and be successful in careers that include an English-speaking environment.
As part of the English Practice Mentorship, we pair local university students with native English-speaking mentors living in Merida, to help these students enhance their English language skills and confidence in order to improve their career prospects. Through this workshop, the students will accomplish specific tasks, including making an oral presentation, writing an effective resume and cover letter, practicing their job-interview skills, and maintaining a journal of their conversations and thoughts in English.
I would like you to consider being a mentor to two students. We are looking for willing individuals who can be committed to completing the ten-week run of the mentorship if you have experience related to hiring decisions, job interviews, or coaching/mentoring. The program will begin the week of October 17 and end the week of December 19. There will be weekly evening in-person sessions, and the mentors will connect with their students individually as needed during the rest of the week. We have defined specific modules and tasks to be completed so you do not need to develop the program on your own. Instead, your task will be to help these students with their assignments and, hopefully, impart a little wisdom in the process. We expect that you will find this rewarding and perhaps you will establish friendships with your students that could last for years.
Please consider this opportunity and let me know if you have any questions. We have more specific details available about the tasks that will be assigned to the students and the general logistics of the program, and I am happy to share them with you. I hope you will see this, as I do, as a great chance to help eager and worthy students achieve their life goals.
For more information, or to volunteer, contact the Library Administrator at info@meridaenglishlibrary.com
Warmest Regards
A cenizo agave typically, Cenizo from Durango and Michoacan are referring to an Agave durangesis, but occasionally the name Cenizo is used to describe an Agave americana or Agave angustifolia in certain regions. In 2018, the Consejo Regulador del Mezcal (CRM) decided to restrict the "Cenizo" classification to only the Maguey cenizo ( Agave durangesis ).grows wild outside the city of Durango.
Is Durango the next mezcal mecca?
Say 'mezcal' and most people think of Oaxaca, but this obscure state might just be its next big producer
By Leigh Thelmadatter
Published on Wednesday, October 5, 2022
Say the word "mezcal," and, by far, most people think of Oaxaca. But the obscure state of Durango might just be the Mexican liquor's next big producer.
Agave spirits can legally be called "mezcal" if they are produced in certain areas of Guerrero, Michoacán, Zacatecas, Durango, Puebla and San Luis Potosí, as well as Oaxaca. The variety of agave species and distillation processes make for mezcal with a wide range of tastes.

Oaxaca dominates primarily because of its long-established tourism industry, which provides name recognition and infrastructure for visiting business and leisure travelers. Durango lacks in both areas, but don't count on this state's spirits to stay hidden much longer.
Until very recently, all production and consumption of mezcal in this state was very much a family affair. With agave all around, making mezcal became a common farm chore, with some going a bit beyond to make batches for very local sales.
Juan Matador's cantina in downtown Durango city is probably the best place to try out Durango mezcal. JUAN MATADOR/FACEBOOK
Primarily consumed at home, children grew up around it not only as libations but also infused with herbs and fruits for medicinal purposes. This tradition meant that vinatas (distilleries) locally commercializing mezcal were not organized in any way. Any mezcal sold in places like Durango city was bought from vinatas by intermediaries.
The idea of commercial mezcal from Durango was pretty much inconceivable until the beginning of this century. The first brands, like Cava Rojas and Lágrimas de Dolores, are only about 15 years old. Even many durangueses today still are not particularly interested in buying a Durango brand; they buy from rural producers they already know.

But the boom in mezcal has had an effect: a number of producers, the government, and others are interested in formalizing at least part of the state's production for economic reasons. However, there are hurdles related to taxes, quality control and sustainability, which few individual vinatas can take on themselves.
In 2018, a number of the larger vinatas and others formed the Durango Mezcal Cluster (Clúster Mezcales de Durango). Their primary focus is to promote the formalization of mezcal-making in Durango by promoting to new markets those which are already branded and help smaller producers jump the legal and bureaucratic obstacles. Today, they represent the 20 largest producers in the state, as well as another 30 who are in transition.
Durango's producers are still making mezcal using traditional methods — by cooking agave hearts in an outdoor oven.
President Olivia Fernández Godínez admits the costs of formalization are considerable, but the prices that Durango mezcal can command in the new markets make the effort worthwhile. They have had considerable success. Today, Durango produces 93,000 liters in full compliance with Mexico's regulations, compared to the 90,000 still produced and sold/consumed informally.
Like with tequila, the most exciting and lucrative markets are foreign. Brands such as 618, Cuero Viejo, Ajal, Izo, and others are now shipped mostly to the United States, but they're also sent to Japan, Taiwan and Europe.
The distinguishing factor for most Durango mezcal is the use of Agave duranguensis, colloquially known as the Durango agave or the cenizo (ash) agave due to the plant's color. Its abundance in southern Durango is why most of the state's mezcal producers are concentrated in municipalities such as Durango, Nombre de Dios, Súchil and El Mezquital.
However, other mezcals are made with other agaves such as Agave angustifolia (maguey de castilla, cacaleño, tepemete), A. asperrima (lamparillo) and A. maximiliana (masparillo). They mostly come from other areas of the state such as the Mapimí/La Laguna region, in the northeastern part of the state, and the Durango-Sinaloa border. Only a few of these are branded, like Ultramundo, made from the lamparillo agave.
Lagrimas de Dolores's mezcal is grown on a Durango hacienda and distilled on the premises. They have a small store in Durango city where you can sample and buy. MEZCALISTAS
If Durango mezcal branding is young, mezcal tourism is in its infancy. Nombre de Dios is a Pueblo Mágico in large part due to its association with mezcal. Crowds do come here on weekends to drink and buy the liquor, but the 25 or so producers are in the outlying areas. There are no tours, nor are producers set up to receive casual visitors — yet.
To get your first taste of mezcal in Durango proper, start in the capital, Durango city.
Lágrima de Dolores has a small store on 20 de Novembre street, where you can taste and buy. Nearby is probably the best cantina for the enjoyment of Durango mezcal — Juan Matador. The extremely knowledgeable (and English-speaking!) Ignacio Rodarte, who runs it, refuses to recommend a mezcal without knowing a patron's particular tastes. The cantina's ambiance celebrates Durango's traditional cultures, as well as the former bullfighter who lived in the building.
However, if you are looking for a more modern and youthful vibe, La No 19 on the Constitución tourist corridor also promotes the drinking of mezcal in old and new ways.
Two important Durango mezcal brands — Ajal and Bosscal. Ajal is exclusively exported to Asia.
For those of you unable to make the trip to Durango, finding Durango mezcal gets ever easier. Specialty stores like Mezcalía in Mexico City carry various brands. Several vinatas such as Apaluz, Lágrima de Dolores, Cuero Viejo, Bosscal have full websites with online stores. More have a presence on Facebook and other social media.
One warning however: Durango mezcal is, almost without exception, far stronger than any tequila and even stronger than its cousins from Oaxaca. Duranguenses tell me quite truthfully that this mezcal is "to be respected," drunk slowly in sips akin to "kissing" it.

Perhaps one reason to try it now is that it is still made the way it was 100 years ago, with wild agave and traditional techniques. But that is sure not to last. Already the Clúster and others are recognizing the sustainability issue, and other issues, that has plagued tequila and Oaxacan mezcal and are taking preventative measures, such as replanting programs.
But for now, you can easily find Durango mezcal exactly like what Pancho Villa and other revolutionaries drank more than a hundred years ago. Get it while it lasts.
Leigh Thelmadatter arrived in Mexico 18 years ago and fell in love with the land and the culture in particular its handcrafts and art. She is the author of Mexican Cartonería: Paper, Paste and Fiesta (Schiffer 2019). Her culture column appears regularly on Mexico News Daily.
The Paseo de Montejo's bike path co-exists with horse-drawn carriages. Photo: Yucatán Magazine
A greener path
Tourists still seem to prefer a horse to go along with their carriage rides, but bowing to popular demand, the city has introduced a few electric carriages to the mix. The city has also carved about 45 miles of bike lanes throughout Mérida. Some are confusing — cars and buses often use them as access lanes to enter parking lots. A lot more effort went into the paths along the Paseo de Montejo where joggers — some possible out-of-towners unfamiliar with the rules — compete for space. Motorists complained they had less room to maneuver. But walking the Paseo — especially at the huge intersection outside the Walmart —feels safer these days. Pedestrians have a dedicated path and lights. Walk/don't-walk signs are also at various intersections in the Centro, but as we noted in Issue 5, a few adjustments are in order.
Mérida's 2022 pride march became the Paseo de Montejo's biggest annual event.
Pride and Fury
You'd think the biggest parade on the Paseo in a conservative city like Mérida would be something like Carnaval. Nope. In 2022, it was an extravagant LGBTQ+ pride march attracting an estimated 20,000 people. The event previously took place in far less prominent streets with far fewer participants. Graffiti on monuments, including the one above, remains after a demonstration in March protested gender violence.
High-octane competition
These recently opened cafés are within walking distance from each other. Is there room for them all?
On Calle 47 and 56, Baretto has replaced Marmalade. New and old restaurants on either side —Tradicion Venezuela and La Papa Caliente — did not survive. Plot twist: A new Marmalade is opening to the left, right next door. Stay tuned.

Maria & Montejo, Rituales de Café might be the most mellow and refined of the recent batch of coffeehouse newcomers, on Calle 58 between 37 and 39. Despite a fairly obscure location, they are often packed with regulars who appreciate their simple elegance.
Justo Bread Studio, Matilda, Fiorella Gelato y Sorbete Gelato, and La Bottega on the Paseo de Montejo at Calle 29 in 2022.
Justo Bread Studio opened as the pandemic began to spread, but remained in operation during lockdown by bringing coffee and baked goods to the sidewalk. It led several vibrant new businesses — Matilda, Fiorella Gelato y Sorbete Gelato, and La Bottega — to replace a defunct airline ticket counter and an insurance company branch office (left) on the Paseo de Montejo at Calle 29.
Tinoc has tough competition but is holding its own in Santa Lucía. Tinoc Café is taking on established rivals such as Soco around the corner and Voltacafe and Bengala Kaffeehaus to the west and south. But it's got its own unique vibe on Calle 58 between 51 and 53.
Menta & Rosa attracts a devoted female clientele. On a recent brunch visit, all the tables were taken and two members of our staff were the only guys seated. Photo: Carlos Rosado van der Gracht / Yucatán Magazine
Pastel-infused Menta & Rosa, on Calle 56 between 45 and 47, is popular for breakfast and brunch. Very often customers are outside patiently waiting for a table to be freed up. If your tastes lie elsewhere, the girly vibe is worth it for the chilaquiles served in a casserole dish.
An old sewing machine shop has become a well-received new coffee shop on Calle 54 and 49. Photos: Google Street
An old sewing machine distributor has become a vegan café on Calle 54 and 49. Early reviews give Arista Barista a thumbs up to latte de horchata, and another made with peanuts.
Just a taste of all the new restaurants
Ramiro Cocina quickly caught fire on social media — in a good way. Photo: Lee Steele / Yucatán Magazine
Ramiro Cocina, a tiny eatery well-loved for home-style Yucatecan food, Calle 41 at 60. Previously: A wine shop, among other things, when the building was a deep blue. Note: Café Creme and a ceramic workshop still anchor the small complex.

Yakuza has elevated Japanese cuisine on Restaurant Row. Photo: Courtesy GOAT Restaurants
Yakuza, a high-end sushi bar with a cocktail bar to match, Calle 47 between 54 and 56. Previously: Sayonara Asian Cuisine, and before that, Dice Ño design. Note: The first Yakuza is still at Victory Platz on the north side.

Piensa Rosa has moved into Casa Jure, a French neo-classical casona dating to 1905.
Piensa Rosa, a splashy, fun restaurant with two marble outdoor countertops parallel to the Paseo de Montejo at 43. Previously: Casa Jure, a private French neo-classical casona dating to 1905. Note: While in the courtyard, look up at the pink umbrellas facing down. It's reminiscent of an installation we've seen in the Pasaje outside the MACAY.
Health Ha, fresh smoothies, Calle 47 between 58 and 60. Previously: Compro Oro, a gold dealer. Note: Is this Health Food Row? The Vegan Inc. chain is opening up a few doors down, and near 56 is Pitagoras, a vegetarian café in the old Huevos Motuleños y Más.

The old Amate Books, which then became an Islamic cultural center, is now Casa Patricia, which has the Gran Lumiére restaurant, a gift shop and a guayabera store, and a hair salon.
Gran Lumiére, fusion cuisine with French flair, Calle 60 at 51. Previously: Islamic cultural center, and before that, Amate Books. Note: Part of what's called Casa Patricia, which also has a gift shop and guayabera store, and a hair salon. Tranquil courtyard in the rear.

Sabino has big shoes to fill across from the Santa Ana church. Photo: Yucatán Magazine
Sabino Comedor & Bar, Mexican fusion, Calle 60 and 45. Previously: Napoli Mia, which broke our hearts when they closed. Note: Direct view of Santa Ana church, which is especially fun if there's a wedding.

Can Esencia Maya Fusion succeed where Changomango, Bravo Tapas, and Las Brasas didn't? Photo: Lee Steele / Yucatán Magazine
Esencia Maya Fusion, a streetside café with an open-air restaurant and bar upstairs, Paseo de Montejo and 39. Previously: Briefly Changomango. Years ago it was Bravo Tapas and Las Brasas. Note: Great views of the glorieta. An adjacent store features Yucatan-inspired hats, shirts, and dresses.

Cervo Mediterranean Spirit has opened in the land of English-language signage. Photo: Carlos Rosado van der Gracht
Cervo is the newest restaurant at the Harbor Lifestyle mall, part of a big Mexican restaurant group that includes its flagship Sonora Grill steakhouses. This time around, the emphasis is on Mediterranean food, especially seafood dishes like the ones you'd find in Greece, Italy, and Spain. One critic described it as "Tulum style," which would be in line with the trend these days.
The remate reborn
Nights at the park-like southern base of the Paseo were always kind of quiet except during Noche Mexicana. But not lately.

The Oracle roof bar at Lyon on the Remate. Photo: GOAT Restaurants
Quiet offices facing Hotel Casa San Angel were replaced with the high-energy Lyon restaurant. It particularly made a big splash with its opulent Oracle roof bar.

Brunch is served with a side of live music at Tropico on the Remate. Photo: Lee Steele / Yucatán Magazine
Left, friendly, and festive Trópico 56 may actually break the curse that's quickly put a fork in many other restaurants in that space.

Pizza Neo is new on the Remate. It's just the beginning of a complex of interconnected restaurants on one of Mérida's most high-profile crossroads. Photo: Lee Steele / Yucatán Magazine
Pizza Neo just opened, and they sell New York-style pies that we loved. The same owners have taken over the neighboring El Gran Café, which was underutilized at one of Mérida's most dynamic locations. Everything has been gutted and there are big plans for a roof bar and restaurant complex.

GONE: Luna Nueva hostel and cafe on the Remate shuttered in 2021, but new neighbors have sprung up during the pandemic. Sadly, the doors shut tight at the charming Luna Nueva hostel and café, leaving the corner property at Calle 49 ready for new ideas.
Places hiding in plain sight
The secret bar in Santa Lucía.
Some things should remain secret, but other times you just can't resist sharing your discoveries with everyone. Yes, there's a new speakeasy in Mérida! If you haven't discovered it yet, keep your eyes out for a shiny walk-in refrigerator door in the Santa Lucía area. Inside the secret bar, you'll find an underground atmosphere and plenty of fancy drinks. The space is tiny, but they wedge in space for musicians to perform. (And no, we're not talking about Malahat, but if that's your guess, you're close!)
Dix and Boobs
A Hooters-style bar and a gay club with drag shows are a provocative part of what's new to the Centro. Since we went to press, an old-school stripper bar was revived on Calle 56. Photo: Yucatán Magazine
Subtlety is dead. It's not just the short shorts and nipple rings tourists wear on the streets since everyone stopped reading guidebooks imploring us to dress conservatively. Across Santa Ana park on Calle 47 is a bar that's actually called Boobs. Its logo renders the pair of O's as an owl's eyes, or are they … something else? For men with different tastes, there's a bar on Calle 54 between 56 and 58 called Dix. Oh my. A neon sign near the entrance says "Welcome to hell." Mother warned us about places like these.

Asai is hidden away behind the lobby of the big blue hotel formerly known as the InterContinental. Photo: Courtesy
Asai is off the hotel lobby at the former pretty-in-pink InterContinental Presidente, which is now the handsome-in-blue Villa Mercedes. The entire property was brought up-to-date by Hilton. The Japanese restaurant is a spinoff of Chef Yasuo Asai's Kaiseki in Mexico City. For a twist on tradition, try the cactus sushi.

China Moreno: If you blinked, you missed it.
Chino Moreno, specializes in street seafood, Calle 56 near 43. Previously: Comida Godínez, to-go lunches for office workers. Note: small menu includes tuna tostadas and octopus quesadillas. (Update: It's already come and gone.)

That convenience store with 200-peso wines in the back is now a music-focused bar. It reminds us of a cool townie hangout back in college.
The old Mini Super Pronto on 60 near 55 has become a rocker bar called Fah, so tourists in Santa Lucía will have to find somewhere else to grab snacks and 200-peso bottles of vino tinto. In its place is a casual, fun place for live music. They appeared to be looking for homesick gringos when they hosted an "Expats Fahntastic Party" with half-price beer and margaritas. It probably worked.

Bird's jazz-record collection is almost as impressive as its selection of craft beers, many on tap.
Charlie Parker lives
Music is at the center of the Charlie-Parker-inspired Bird, a Santa Lucía hangout on Calle 58 between 53 and 55, in the former Fundación Mezcaleria spot. (That place moved to the old Pancho's on Calle 59, where its devotees have followed.) Attention to craft beer on tap, bespoke tacos and authentic rustic pizza is more than we could have hoped for. The Bird landed just as many people were beginning to rediscover the concept of evenings out in Mérida. If Bird reminds you of Dzalbay, there's a reason.

Galería Wayak is a must-see when visiting Izamal.
Galería Wayak is artist-owned, and while the art is Mexican, the owner speaks French and English in addition to Spanish. In one year, it's become known as a "must-see" when visiting Izamal at Calle 29 293bis, Centro, a block away from the plaza. Their ongoing goal is to transform old buildings into residences for local, national, and international artists who wish to pursue their creative work in Yucatán.

The highest place to take a dip is at the Courtyard by Marriott in Mérida.
Unless you go to the north, it's hard to find a public roof deck above the second floor. But the Courtyard by Marriott in the hotel zone opened the city's highest pool in 2021. The adjacent Kioyú Sky Lounge opened sometime afterward. It could have been a tourist trap, but no, the food's actually terrific. And we were also surprised by how sweet the air is up above it all. Need we mention the sweeping views? I think we saw Galveston. Day passes are available for the pool. Fronto, at the boutique hotel Diez Diez, Calle 56 and 37, opened as lockdown uncertainties peaked. But by 2021, the second-floor patio caught on. Just don't skip the indoor dining room where watching the bartender is a show in itself. Below, La Ermita is growing as a destination. Cigno was designed by Roger Gonzalez Escalante (Casa Lecanda's architect) at Calle 66 between 73 and 75. Believe it or not, this gem was used as a lumber yard in the last decade. As we mentioned earlier, on the Remate, Lyon has a whole new format, with a cantina-themed space and roof lounge called The Oracle, which opened in August. Esencia Maya Fusion has great views further up the Paseo de Montejo.

In our books, the most-improved renovation of the year was the office building above Trattoria La Pasta on the Paseo de Montejo. The Hotel Plaza by Kavia is just lovely, especially under the moonlight.
Design for our time
Proof that not everyone is just throwing money at a project, the Hotel Plaza by Kavia is a well-thought-out overhaul of an unattractive and outdated office complex on the Paseo de Montejo, near Calle 39. They kept the bones and added soft lighting, an open center elevator, and even a putting green on the terrace. It adds a touch of distinction where the boulevard deserves it most. As for the hotel tower next door, the one with the never-ending renovations, all bets are off.

The French-Moorish mansion El Minaret on the Paseo de Montejo near Calle 35, hosts a bazaar each weekend.
Minaret bazaar
During the pandemic, many folks in Mérida, especially women, found themselves out of a job. As a result, the city has seen a dramatic increase in outdoor markets selling everything from hair accessories, to ironwork, and plants. Though some of these bazaars operate out of communal areas in shopping centers or parking lots, others have sprung up in public spaces with the approval of city hall. Several of these markets are organized around themes such as "LGBTQ+ creators" or "women helping women," while others are a little more free-form. These bazaars are great places to pick up one-of-a-kind items while supporting the local economy.

The Delorean, now and then. Still rockin'
The Delorean on Prolongación Paseo de Montejo was the place to get your dose of live rock. After having to close up shop, the venue relocated to Centro and downsized its stage to a walkway on 58 and 59 — just across from El Palacio de la Música. Though much smaller, the Delorean has kept on rocking and offering pub fare and plenty of beer. Its music genres vary depending on the night, but often have a hard rock or alternative edge. The smaller location has its advantages, as the music attracts many passers-by including tourists. But the Delorean's Facebook page has dropped plenty of hints that they are looking for a bigger space where they can put on larger shows and host bigger bands once again. Fans can't wait.
Lacrimosa
Coming from Germany and fronted by Tilo Wolff and Anne Nurmi, Lacrimosa mixes gothic rock and heavy metal, along with violins and trumpets at the La Isla Auditorium on
Nov. 3.
OV7
Formerly known as La Onda Vaselina, OV7 is a Mexican pop group with hits that include Te Quiero Tanto, Tanto, Shabadabada, and Mírame a los ojos. OV7 will be performing at the Foro GNP on Nov. 5.
Café Tacvba
One of the most popular rock bands in all of Latin America. Café Tacvba has won a swath of awards including Grammys, Latin Grammys, and MTV Music Awards. They hit Mérida on Dec. 10 at the Foro GNP.

Progreso's malecón has a fresh look that's earned raves. A modern malecón
Progreso authorities earned raves when its overhauled malecón —the promenade that runs between the beach and the restaurants, shops and bars — was beautified. It leaves a good impression on jaded cruiseship visitors, as well. Places like Scappata Casa di Mare have contributed to a more upscale restaurant scene, as well.

An accessible palapa makes this Progreso beach more inclusive.
Five floating wheelchairs and a set of movable rubber ramps were installed last year in Progreso. These are among the new amenities now available to visitors with disabilities. The new infrastructure also includes three wheelchair-accessible bathrooms, showers, signage in braille, and improved ramps to access the boardwalk and beach with greater ease. Even a merry-go-round has been designed with a ramp and places for wheelchairs.

Chicxulub's Sendero Jurásico. Walk with the dinosaurs
Just a few minutes from Progreso, Chicxulub's Sendero Jurásico offers visitors the opportunity to walk a roughly one-kilometer path lined with large dinosaur figures and great photo opportunities. The park has proven to be popular with families, and especially children. Meanwhile, the new Museo del Meteorito on Progreso's malecón has even more dinosaur-themed exhibits, many high-tech. Tickets required for both.

On the outskirts of Valladolid, Villas Vallazoo offers luxury cabañas in a natural environment. Each of the cabañas is decorated in the theme of a different species of animal native to the Yucatán, including monkeys, jaguars, and macaws. The cabañas are surrounded by the Vallazoo natural reserve which is home to over 250 endemic plant species as well as many of the animals the cabañas are themed around. Bicycles are also for rent, as is the use of a mini-golf course — somewhat of a rarity in Yucatán.

TAG Airlines takes passengers from Mérida to Guatemala. Photo: Ravi Khalsa
Get outta here
Mérida's Manuel Crescencio Rejón International Airport may not be as large a hub as Cancún's — but with more and more domestic and international flights, it has never been easier to fly into the White City. The airport operates flights to and from Houston, Dallas, Miami, Las Vegas, Toronto, and Havana — as well as a new route connecting to Guatemala, which puts the beautiful destination of Flores within easier reach. TAG Airline's president, Marcela Toriello, said even more Central American destinations are coming. Aside from daily flights to domestic destinations such as Mexico City, Monterrey, and Oaxaca, Volaris begins flights to Guanajuato on Nov. 18. That makes jaunts to places like San Miguel de Allende all the more feasible.
Digging around
The archaeological site Xiol is in Kanasín's industrial zone.
Xiol is a recently excavated archaeological site just in Kanasín's industrial zone. It is made up of seven restored Puuc-style structures from the late-Classic period, roughly 600 to 800 CE. Xiol translates as "spirit of man." But this name was only recently given to this ancient site by INAH; its original name has been lost to time. The site is easily observable from the highway and is expected to open to the public in 2023.
Red paint on the facade of the largest structure in Kulubá's group B.
Kulubá has been known to archaeologists since the 1930s, but is only now gaining much attention thanks to ongoing excavations. The site is 35 miles from Tizimín and is officially still closed to the public, though it is still possible to visit. Like Xiol, Kulubá is expected to open in 2023. Kulubá is known for its grand Puuc palaces and relative isolation from other ancient Maya capitals. Bring plenty of water and dress for the heat if you go.

Estudio MMX's Geology Museum on the Yucatán Peninsula is a big hit
Built on the site of a former public park in the small seaside town of Progreso, the new museum is clad in traditional chukum plaster and features sheltered gardens planted with local agave and palms
Mexico's many claims to fame include a rich culture, a long history and dramatic landscapes. It is lesser known, however, as the site of an important event that changed life on Earth forever. Yet it is here that the asteroid that is thought to have killed the dinosaurs landed, heralding a new era for the planet and leaving in its path what today is known as the Chicxulub crater. Located on the Yucatán Peninsula, this geological formation was the result of an impact that happened 66 million years ago. It is also the inspiration for a new museum in the small seaside town of Progreso, designed by Estudio MMX, a dynamic and relatively young Mexico City-based practice founded in 2010 by architects Jorge Arvizu, Ignacio del Río, Emmanuel Ramírez and Diego Ricalde.
Created as part of an ambitious national scheme called Programa de Mejoramiento Urbano (PMU), or Urban Improvement Programme, which kick-starts public projects and cultural interventions in cities across the country, the new Geology Museum focuses on the region's rich history in the field.
Openings allow the sea breeze to travel across the site, helping to cool the building naturally, and making the structure more resilient to the hurricanes that often hit Progreso in the summer
The initial plan was to build a new cultural building for Progreso, but its exact use was unclear at the start of the project in 2019: 'They told us, there is an opportunity to make this cultural space, in this part of Yucatán. We were put forward as the architects for this site as well as another project, the market in neighbouring Chicxulub,' Ricalde recalls. 'Because of the crater of the asteroid that hit the Earth and extinguished the dinosaurs, it was then decided to do something around geology.'
This is a rural and fertile part of the country, both in nature and history. Yucatán's capital, Mérida, is just 50km south and the area is filled with mangroves and dotted with sandy strips and Mayan and colonial heritage sites. It also used to be the main producer of henequen, a variety of the agave plant often referred to as 'green gold' for its uses in the textile industry. Both the geology of the impact crater and the existing natural environment played a key role in the design development of the new museum. Its distinct form is composed as a sequence of discrete yet interconnected square-ish volumes set on a strict, geometric grid spread across the length and width of the site. The angled arches and overall monolithic and stepped character of the volumes reference ancient Mayan architecture, the architects explain.
The museum includes a series of water features inspired by Yucatán's cenotes, the sinkholes created by the asteroid impact 66 million years ago
The building is covered in a type of plaster called chukum, a traditional material made with the powdered bark of a small thorny tree of the same name. It allows for great detailing, is locally produced, naturally water-resistant, and soft to the touch. 'It fits the city's urban image, as well as the landscape's colours, and its light tone reflects the sunrays and helps control the heat,' Ricalde explains. 'As for the grid, it is a very common feature in the cities in this part of Mexico, many of which were built around orthogonal grids.'
Inside, the building has space for offices, temporary and permanent exhibitions, a café and multifunctional areas for workshops, educational programmes and events. 'As we didn't know from the start what exactly would be housed within, we had to design the building to be flexible,' the architect says.
Ricalde also points out that the height of each volume is designed so that there is an undulation, abstractly referencing the topography of a crater. At the same time, openings underneath some of these elements allow the sea breeze to travel across the site, cooling down the building naturally, while a green garden below invites the local wildlife in, offering a mix of water features and native plants. The fact that much of the building is lifted above ground level also helps it negotiate rising water, as the area is prone to flooding. And thick shading created by the various, closely knit spaces is welcome in the outdoor public space as it protects it from the sun in this typically hot region.
The museum is spread in a series of blocks arranged in a grid. Their triangular openings recall the shape of the region's Mayan pyramids
While the site is big, the building is not very tall, ensuring that it does not block the views towards the sea or dominate the lower urban fabric around it. 'There are many hurricanes in the summer season and so, instead of making one big solid building that would 'fight' the winds, by breaking it down, the winds can feel softer and the building is more resilient,' the architect continues.'The vegetation was also important to us. We love incorporating plants in architecture, and we are very interested in the relationship between landscape and architecture. The species selection was done carefully so the design would act according to our intentions, saving existing palms while avoiding inserting non-native species or creating maintenance issues. It's very important for us in every project, but particularly in this one, as previously the site hosted what was an open public space. In our view, the city did not lose a park – it gained a museum.' §
AMLO to end daylight saving, keep "God's clock"
Andres Manuel López Obrador submitted a bill on Tuesday, July 5th, to end daylight saving time, putting an end to the practice of changing clocks twice a year.
(Presidencia de la República).- Health Secretary Jorge Alcocer declared that Mexico should return to "God's clock," or standard time, arguing that setting clocks back or forward damages people's health.
That would mean darkness falling an hour earlier on summer afternoons.
"The recommendable thing is to return to standard time, which is when the solar clock coincides with the people's clock, the clock of God," Alcocer argued.
Mexicans set their clocks ahead this year on April 3, and are scheduled to set them back on Oct. 30. The changes, if approved, would presumably apply to next year.
The change would mean central Mexican time, which covers most of the country, potentially could be permanently two hours behind the east coast of the United States; it is now one hour behind for most of the year. The U.S. Senate in March passed a bill to make daylight savings permanent, though the measure has not passed the House of Representatives.
Economists argue that, while the energy savings are minimal, going back to standard time might cause trouble for financial markets in Mexico by putting U.S. east coast markets so far ahead.
President Andrés Manuel López Obrador has said he is considering keeping daylight savings time for some northern border states.
And businesses like restaurants that have become accustomed to staying open later may have to close earlier as many crime-wary Mexicans often try to be off the streets after dark.
Nearly a dozen states across the U.S. have already standardized daylight saving time.
Starting In July, Americans Will No Longer Be Able To Enter The US With Expired Passports
The U.S. Department of State has an important message for American citizens traveling in the long term, or who are due to fly internationally soon. Starting in July, expired U.S. passports will no longer be considered valid documents when returning to the United States, as certain pandemic-era measures are due to be revoked.
Throughout the Covid crisis, the U.S. Government allowed Americans who had been stuck abroad indefinitely, and whose passports might have ceased being valid amid the never-ending cycle of restrictions, to travel back home on an expired document. The ordinance had been extended a number of times, while travelers still faced a high degree of travel unpredictability.
Now that Covid is close to being considered an endemic disease, and a majority of travel curbs have been loosened, the U.S. is finally revising this once-lax travel policy:
Americans Will Be Denied Boarding If Their Passports Are Not Valid as of July 1
As those who have been closely following the latest updates on the websites of major U.S. Embassies lately will already know, after June 30, 2022, U.S. citizens who remain overseas with an expired passport will no longer be able to use it as a travel document for returning to their home country. Instead, they are now urged to apply for a new passport.
Since the announcement was made, several U.S. Embassies around the world were quick to update their own travel guidance, including the American diplomatic missions in the Dominican Republic, Mexico, France, Germany, and several other countries. As early as July 1, only passports that meet expiry requirements will be accepted.
In a message to U.S. citizens holding an invalid travel document and who are abroad at the moment, the Embassies have collectively advised them to seek assistance in obtaining a replacement passport ahead of traveling. As the U.S. Embassy in Albania reiterates, Americans are eligible for 'temporary passports' in cases of emergency travel.
These passports can be issued when a travel date cannot be postponed, and the time required for applying for a regular passport would prevent departure. In these situations, they should contact an official U.S. representation in the foreign country they are in – whether it's Albania or any of the aforementioned nations.
The application process may vary, but same-day issuance is usually available on a case-by-case basis. Nevertheless, Embassies remind travelers that, in 'certain circumstances, additional information may be required, or they may refer cases to the Department of State for further evaluation. For that reason, they are warned against making travel plans in advance.
Change In Travel Rules Follows A Global Reopening Trend
Prior to the tightening of the rule, all U.S. citizens qualified for travel to the United States on an expired passport, so long as the flight back was a 'direct return', or included a short-term, air-side transit in a foreign country. U.S. authorities only required that the document had previously valid for a total of 10 years, from the date of issue, before expiring.
In spite of the positive trend, Americans are reminded holding valid passports is the main prerequisite for international travel – and, soon enough, for entering the United States. Lastly, all travelers are urged to enroll in the Smart Traveler Program (STEP), including U.S. nationals that are abroad.
STEP is a free service allowing Americans that are either traveling for extended periods of time or living in other countries, to register their trip with Embassies or Consulates that are closest to them. This will help U.S. officials assist them during unforeseen events, and strengthen communication between both parties.
The U.S. Department of State reaffirms Americans will be denied from boarding a plane when attempting to travel to an international destination without valid documentation. As pre-pandemic regulations are reinstated, the best option here is to get a passport, or renew an expired one, as soon as possible.
U.S. citizens can apply for new passports using this link. Source: traveloffpath.com
July 15, 2022
Built in the 8th century BCE, Cuicuilco is one of the most ancient settlements in all of Mesoamerica.
This great city even predates the construction of Teotihuacán and is roughly contemporaneous with the great Olmec capital of La Venta.
What is perhaps even more surprising is that Cuicuilco is not located on some far-off mountain range or lost in dense rainforest, but rather within one of the largest cities on earth — Mexico City.
Like all Mesoamerican city states, Cuicuilco relied heavily on its control of the surrounding countryside which produced food for the community and a surplus for trading.
But aside from agriculture, Cuicuilco developed a reputation for producing pottery of exceptional quality which greatly influenced the traditions of subsequent peoples in the Valley of Mexico.
Archaeological evidence suggests that even early on in its history society in Cuicuilco was highly stratified with a ruling elite entrusted with governance.
These elites, along with members of the priestly class were afforded the privilege of living near or within the main ceremonial center, while merchants, workers, and presumably captives made their homes on the periphery.
It is estimated that by the 1st century CE, Cuicuilco had grown its population to approximately 20,000 — making it comparable to Teotihuacán.
Although during this time there is no direct evidence of war between Cuicuilco and Teotichuacán, then again it may have only been a matter of time. But unfortunately, by the 2nd century CE, Cuicuilco was out of time.
The end of Cuicuilco came suddenly in the year 250 CE with the eruption of the nearby Xitle volcano.
It is unclear how many survivors were able to escape the eruption, but it is widely believed that most migrated to Teotihuacán and the then emerging communities in Tula.
These refugees brought with them their own traditions and technologies, but appear to have for the most part integrated fairly well into their new societies.
The first excavations in Cuicuilco took place in the 1920s and were financed by the National Geographic Society.
However, Cuicuilco's main ceremonial center was severely damaged when the olympic village for the 1969 games was erected in its vicinity. As a result, only 8 structures of ancient Cuicilco survive to this day.
Efforts to undo the damage were carried out by the INAH in the 1980s but met with limited success.
Nevertheless, visiting Cuicuilco today is still quite impressive. Its largest and most famous structure is a circular pyramid constructed with basalt stone.
But as one would expect this temple was severely damaged by the eruption of the Xitle volcano, making a complete restoration of the pyramid virtually impossible.
Despite the extensive damage caused by the eruption, Cuicuilco's main pyramid was so large that much of its architecture survived remarkably well — though it has been restored extensively.
Being much smaller than the main pyramid, Structure E suffered much more damage during the eruption of the Xitle volcano, but has also been restored to a surprising degree.
It is also possible that structure E was in some way connected to the great pyramid by an underground passageway.
During the aforementioned construction of the Olympic Village for Mexico's 1969 games, a road was built that bisected Cuicuilco in two.
On the other side of the section of the ceremonial center containing the great pyramid, it is possible to observe another large pyramidal structure, topped with a contemporary sculpture.
This second pyramid is believed to have been dedicated to the fire god Huehuetéotl.
Despite being surrounded by large corporate headquarters, and Mexico's largest University, the archaeological site of Cuicuilco itself is a surprisingly pleasant natural oasis, full of colorful birds, blooming cacti, and lizards.
The archaeological site also has an excellent museum full of artifacts and useful information, it is very much worth a visit.
If you go
Getting to Cuicuilco from any point in Mexico City is fairly easy as the area is well connected to the metropolis's extensive public transit system.
Another good choice is to opt for the services of a ride-sharing app, as prices in Mexico City tend to be rather affordable. But as always it's best to schedule your trip well outside of the city's infamous rush hour.
Entrance to Cuicuilco and its museum are free of cost and are open from 9 a.m. to 5 p.m. Tuesday through Sunday. Registration at the entrance of the site is required.
New Calle 47 foodie corridor in Mérida wins approval
ByCarlos Rosado van der GrachtJuly 12, 2022 Share
Latest headlines
July 15, 2022Carlos Rosado van der GrachtBorn in Mérida, Carlos Rosado van der Gracht is a Mexican/Canadian blogger, photographer and adventure expedition leader. He holds degrees in multimedia, philosophy and translation from universities in Mexico, Canada and Norway. Sign up for the Yucatán Roundup, a free newsletter, which delivers the week's top headlines every Monday.
The idea of creating a bona fide restaurant row on Calle 47 has long been floated by several of Mérida's city administrations.
But it would seem the project is one step closer to becoming a reality, with a budget of 350 million pesos to boot.
"We are very excited about this project and will be announcing the details soon," said Mayor Renán Barrera Concha.
The corridor is planned to extend from La Plancha to El Remate just across from Santa Ana park.
But just what is a foodie corridor?
Plans for Calle 47 have been described by city hall to be "mixed-use," which means traffic on 47 will not be closed but is likely to be limited to a single lane.
This is also likely to mean that parking on Calle 47 will no longer be allowed. For the handful of families without driveways, living here could get complicated.
"We are working closely with residents and business owners in the area because we want this project to work for everyone," said the project coordinator, José Luis Martínez Semerena.
Earlier: Locals of Granada Maxcanú seek the return of ancient Maya relic
While a handful of meetings invited interested parties have taken place, details about the project and the changes involved were superficial at best.
On Feb. 8, Yucatán Magazine attended one of these meetings directed at the Centro's international community hosted at Punto MID on Calle 47.
The meeting was run by a local consulting firm and the questions posed could very much be described as "leading."
For example, the tone of the questions included softballs to the tune of, "How many of you would approve of a great new gastronomic corridor with innovative restaurants that would be of benefit to everyone in the community."
Disclaimer: The author of this article owns property on Calle 47 and has himself had several issues with excessive noise and other issues caused by a lack of proper zoning.
INAH pays protesters, plans to reopen Dzibilchaltún after yearlong conflict
ByCarlos Rosado van der GrachtJuly 14, 2022
The archaeological site of Dzibilchaltún is set to reopen, this time for good.
This as INAH has agreed to make a payment of 30 million pesos to Chablekal's ejido to end the conflict once and for all.
But INAH says that there is a good deal of maintenance work to do before the site is able to open its gates once again.
The projected date for Dzibilchaltún's reopening is Friday, July 22.
Dzibilchaltún has been closed to the public for roughly a year due to a protracted conflict between the ejido of Chablekal and the federal government.
The dispute traces back 62 years when the protestors alleged that the federal government illegally expropriated their ejido lands and declared them federal property.
Under Mexican law, all archaeological sites are considered federal property and are run by the INAH, the agency in charge of safeguarding Mexico's heritage.
Earlier: Locals of Granada Maxcanú seek the return of ancient Maya relic
But similar disputes between the INAH and local communities remain a problem at several archaeological sites on the Peninsula including Cobá and Dzibanché.
It is unclear if Dzibilchaltún's above-ground cenote Xlcah will also be reopening, as it has now remained closed since March 2020 when the pandemic hit Yucatán.
Located roughly halfway between Mérida and the port city of Progreso, Dzibilchaltún is the site of an ancient Maya city settled in the third century BC — placing its foundation in the era referred to by archaeologists as pre-classical.
In the Yucatec-Maya language, Dzibilchaltún translates as "the place where they wrote on stones." However, it's even harder-to-pronounce original name seems to have been Chi' y Chaan Ti' Ho.
Aside from its architectural beauty Dzibilchaltún's Temple of the Seven Dolls is also famous for its sunrise on the spring equinox and summer solstice, during which the sun passes directly through its doorway.
This event typically attracts thousands of spectators, many of whom believe the astronomical event to be spiritually invigorating.
New rule would force restaurants to pay 'rent' for public spaces
ByCarlos Rosado van der GrachtJuly 15, 2022 Share
Latest headlines
July 15, 2022Carlos Rosado van der GrachtBorn in Mérida, Carlos Rosado van der Gracht is a Mexican/Canadian blogger, photographer and adventure expedition leader. He holds degrees in multimedia, philosophy and translation from universities in Mexico, Canada and Norway. Sign up for the Yucatán Roundup, a free newsletter, which delivers the week's top headlines every Monday.
It is time that Mérida's businesses operating in public spaces pay for the privilege, says Mayor Renán Barrera Concha.
The mayor's comments came after a backlash from Centro residents unhappy with plans for a new "foodie corridor" on Calle 47.
The new project plans to make use of city sidewalks and a traffic lane for restaurants to set up outside patios.
Similar complaints have been made about restaurants using public spaces in Parque Santa Lucia, where some business owners have even resorted to putting up metallic barriers to keep vendors out.
The move would also likely affect markets including Mérida's Slow Food Market, which make use of sidewalks.
No bylaws on the books regulate the use of public spaces by businesses.
The proposed rule would also affect street vendors.
Earlier: A shortlist of Mérida's most modern places for brunch with friends
"The problem is not that vendors use the street to sell their wares, but rather that elitist businesses feel like they have the right to block off public spaces. These street vendors probably would not even be able to pay the fee anyway. It all sounds very unfair," Mérida resident Maria Alcocer said on Facebook.
There is also a concern that making restaurants pay to use public spaces may embolden them to feel like they "own" public spaces.
This has apparently been the case in Nuevo Léon's Parque Rufino Tamayo, where beer gardens with concessions to operate within the public space have started to charge fees just to enter the park.
"Public spaces belong to us all, it's ridiculous that one would have to pay an entrance fee to a public park funded by taxpayers," said a statement made on Facebook by a collective of residents Miguel Treviño in Nuevo Léon.
Mexico, The Most Surreal Country in the World
ByAlvaro Amador MunizJuly 16, 2022 Share
Latest headlines
July 15, 2022Alvaro Amador MunizAlvaro Amador Muniz describes himself as a Rednexican who hails from Ciudad Juárez, an adopted Tennessean, an amateur historian, and an average basketball player currently living in Costa Rica. He can be contacted at alvaroamadormu@gmail.com or via Twitter @AlvaroAmadorM.
After a short trip to Mexico, Salvador Dalí decided that he would never come back, he said that he could not stand to be in a country more surreal than his paintings. Dali's comments aggrieved many in Mexico and triggered a debate about the meaning of his words. How could the artist who painted melting clocks and skinny-legged elephants dare to compare Mexico to his paintings? Now, while Dalí was a strange man and the intention of his remarks about Mexico are a mystery, there was wisdom in his words: Mexico is, in many ways, a surreal place.
In surrealism, the artist lets his/her subconsciousness freely guide the creative process and, in consequence, surrealist art ends up being a photograph of the artist's mind without the restrictions of rationalism. Mexico itself is that photograph, an unbridled portrait of the passions and fears of centuries of chaotic, yet fascinating history; a piece of art that touches your heart from many angles. Mexico is that beautiful and confusing piece art that is hard to stop looking at.
When I first moved out of Mexico, I experienced periods of a sudden sense of emptiness, I felt as if life was not intense enough for me anymore. Sure, I was not concerned about being caught in the middle of a cartel shooting anymore, but I did not have that full-force emotion that only Mexico made me feel. It was not until I left Mexico and I was able to see it from the outside, as a spectator, that I realized that I had been living in a surreal place. I started noticing the two aspects, the grey and the colorful tones that make up this masterpiece called Mexico.
The Gray: Grief in Disguise
One of the classics of Mexican folk music is a song by Jose Alfredo Jimenez called La Vida No Vale Nada (life is worth nothing). This song is one of those sad songs we sing along with when we have had a few drinks, maybe the lyrics about the worthlessness of life hits really close to home. In Mexico, life can be worth nothing. Hitmen seem to demonstrate this idea every day. It is the country where criminals have their own saints, La Santa Muerte and Martin Malverde who provide divine protection for smugglers and murderers. Violence is and has always been relentless and almost inescapable.
Last month, a spider monkey was killed during a cartel-related shooting in the state of Mexico. The monkey was dressed in a tactical, bullet-proof vest. Even in death, he was a monkey with a strong personality that seemed to have been taken out of Frida Kahlo's self-portrait. That day I received many memes and jokes about this narco-monkey news, first I enjoyed the dark humor but then it hit me; the narco-monkey demonstrates the degree of normalization of violence in Mexico. The surreal horror the monkey showed us in death is that we have learned to accept violence and, as with many other tragedies, we just find a way to make it colorful to numb reality.
Another gray element is chronic poverty. After centuries of poverty, we have learned to take the hardships with philosophy. Phrases like donde come uno comen dos (two can eat, as cheaply as one) and echale mas agua a los frijoles (pour more water into the bean soup) are testimony of resilience and overwhelming humbleness but are also the legacy of centuries of scarcity. In Mexico hunger and poverty kills.
The Colorful: Endless Sources of Art, Culture, and Overwhelming Beauty
This is the part of the portrait that is more easily perceptible, the one that hugs your soul and makes you feel pleasantly intoxicated. The calming colors of the Caribbean Sea coexisting with ancient Mayan ruins in Tulum, the spirituality of San Juan Chamula and its hybrid catholic-Tzotzil religious ceremonies, Aztec ruins resting next to colonial buildings in Mexico City, the mysticism of the snowy and vast Tarahumara mountains in Creel, and many other spectacular places. From Tijuana to Tapachula, Mexico is an endless source of beauty.
On this brighter side, one can also see family reunions were everyone dances and sings together, thousands of volunteers removing rubble after the earthquake in Mexico City… here one can see Mexico's unity. Mexico's pre-Hispanic cultures left an indelible footprint, we inherited the humbleness and resilience from ancient civilizations and the intensity of the dreams and passions from the ambitious conquistadors and immigrants from around the globe.
Salvador Dalí was not the only artist who thought about Mexico as a surreal country. André Breton, considered the father of the surrealist movement, also visited Mexico and described it as a country that lives in a magical atmosphere, a past that was meant to clash with modern ideologies but instead it coexisted in perfect harmony. Breton, summarized his visit to Mexico by saying "Don't try to understand Mexico with reason; you'll have more luck looking to the absurd—Mexico is the most surrealist country in the world."
This is Mexico, the country that the more I love it, the less you understand it.
Explore Yucatán's rolling hills from atop Muna's 'mirador'
ByAbraham BojórquezJuly 15, 2022 Share
Latest hea
July 14, 2022Abraham Bojórquez
Yucatán is known for its flat topography. In fact, the name Mayab, what the natives called the territory before the Spanish arrived, literally means "flat."
However, the more one travels south, this landscape transforms into sloppy hills and even a small range known as Pu'uk or Sierrita de Ticul. As you would expect, the area offers some dramatic views of the Yucatán plain.
This is what Pedro Ayuso realized over 25 years ago when he asked permission to take over an ejido land to create El Mirador de Muna. As the name suggests, the project started as a overlook but has developed into a whole ecological experience that includes hiking trails, ceremonies, temazcal sweat lodges, handcrafts workshops, and a museum.
"It was a natural viewpoint," he remembers as he tells the site's story. The location was key, as it is right outside of Muna, on the way to the ancient ruins of Uxmal. When Pedro saw the cliff-like spot and the continuous flow of tourists headed to and from the archaeological site, he connected the dots.
"The land was unaltered, you couldn't walk through it, thorns everywhere. We had to open up some space, cut a few trees, move around rocks. Just by using the debris from this process, we were able to shape the site." For every tree that they have removed, he says they have planted another one elsewhere.
From the main viewpoint, there is a clear view of the Yucatecan jungle, a vast bed of green extending all the way to the horizon. Pedro likes to call it "the highest point in Yucatán." The actual highest point is the Cerro Benito Juárez, at the state's southern frontier, but he might be right about one thing. El Mirador is probably the highest lookout accessible by car.
The real adventure begins down the interconnected trails that lead to several platforms from which different views can be had. The main platform is guarded by a majestic ceiba and it is the place used for most of the Mayan ceremonies that take place at El Mirador.
Pedro describes the ceremonies as spiritual experiences in which a shaman burns copal and incense, sings Mayan chants, blows through a seashell, and invokes the four cardinal points, known as los cuatro rumbos del universo in pre-Hispanic lore, as well as the four natural elements. The purpose of these ceremonies, according to him, is to connect with everything that is natural, with the universe itself. Having studied the Maya culture for years, he places great importance on making sure that these rituals are as close to their ancestral versions as possible.
The complete hike can be completed in a couple of hours. As the paths descend, the scenery keeps changing, and the park begins to blend with the jungle. Besides the platforms, visitors can find a medicinal herbs garden, picnic and camping sites, and a grotto at the far end of the trail.
At the temazcal, a different kind of ceremony – focused more on cleansing and purifying – is reserved for the brave.
There is also a Museum of the Shaman, which displays ceremonial artifacts and information on the history and the tasks with which these priest-like figures are entrusted.
Finally, a handcrafts store displays all kinds of treasures, from masks to vessels, jewelry to clothing, all made by hand with the traditional techniques of the region's artisans.
Besides making these at the regularly scheduled handcrafts workshops, Pedro has created a network of artisans around Yucatán who provide their work to be sold at the store in El Mirador. The collection includes a wide array of traditional musical instruments like the sacatan drum (made from deer skin) the tunkul (wooden percussion device), and all sorts of animal-shaped rattles and whistles.
For Pedro, who was born and raised in Muna, the best part about creating this space has been meeting and talking to people from all around the world who come and visit. "Finding out how we all share the same language, which is the love for nature. That's the religion."
El Mirador has survived a couple of adverse developments. A few years ago, a highway was built to bypass the town of Muna on the way to Uxmal. In a Route 66 kind of story, the number of travelers passing by the viewpoint dropped dramatically. Pedro had to form alliances with tourist operators to bring people back to the site. COVID was a second and much harder hit, which forced him to shut down entirely for several months.
"Things have been slowly picking up, but it is nowhere near how it was before the pandemic, even after two years."
Pedro, however, seems relentless in his mission of ever-improving the project. He has recently set up accommodation facilities which he rents through Airbnb and his business partners. Coming soon, a traditional kitchen experience will show visitors how locals slow cook food in underground ovens.
How to get to El Mirador
From Mérida, take the highway to Campeche and look out for the exit to Uxmal, right after passing Umán. Drive straight ahead and, instead of taking the bypass to the ruins, drive straight through the town of Muna. You will find El Mirador about half a mile after exiting Muna, on your left side.
From Uxmal, simply follow the road towards Muna without taking the bypass and you'll see it on your right side about half a mile before entering the town.
Phone: 997-140-4715
Facebook: https://www.facebook.com/miradormuna/
Address: Carretera Hopelchen-Uman 760, Abalá, Yuc.
Location: https://goo.gl/maps/vA2zG1h7tX4X9VBGA
Top 10 kid-friendly activities in and around Mérida
ByCarlos Rosado van der GrachtJuly 13, 2022 Share
Latest headlines
July 15, 2022Carlos Rosado van der GrachtBorn in Mérida, Carlos Rosado van der Gracht is a Mexican/Canadian blogger, photographer and adventure expedition leader. He holds degrees in multimedia, philosophy and translation from universities in Mexico, Canada and Norway. Sign up for the Yucatán Roundup, a free newsletter, which delivers the week's top headlines every Monday.
Yucatán is known for its safety, fantastic historical attractions, cultural events and its fantastic food — for all ages.
But as a parent, I am well aware that dragging my 9-year-old into the sun for a day to explore the ruins on the Ruta Puuc may not work out as I would hope.
Fortunately, Yucatán has no shortage of activities the whole family can enjoy.
The following list is in no particular order, but all are fairly low impact and can be fun for everyone in tow. We have contained this list in greater Mérida to make things easier, but check back soon for ideas which are a little more far afield.
Day trip to Progreso
Due to its proximity to Mérida, Progreso is by far Yucatán's most popular beach. The port city boasts a large number of restaurants (not just seafood) which are sure to be a hit with your little one. Eladio's is a particularly good choice for children given its location right on the beach, showers and extensive menu. The city also has several attractions that are great for children, especially along its boardwalk.
See El Centenario
Although El Centenario is known primarily as a zoo housing all sorts of exotic animals, the park also features several other activities. One of the most popular is its trenecito, or miniature train that carries passengers around the park's grounds for just a peso per person.
Explore Yucatán's Jurassic Park
Just a few minutes from Progreso, Chicxulub's Sendero Jurasico offers visitors the opportunity to walk a roughly one-kilometer path lined with large dinosaur figures and great photo opportunities. The dinosaurs are not animatronic but are still quite fun to look at and interact with. Entrance to the park comes at a cost of 200 pesos (roughly 10 USD) per person.
Think about Pink Flamingos at Celestún
Celestún is known for its fantastic beaches and mangroves, but more than anything else it is famous for its large population of pink flamingos. Tours to see these exotic birds depart from just outside the community, with the cost depending on the length of the tour and how many people will be coming along. Several other birds and animals such as crocodiles can also be seen, but don't worry, the tours are perfectly safe.
Learn about the Maya at Xcambó or Mayapán
Yucatán is full of archaeological sites, but extremely large and crowded sites such as Chichén Itzá often prove a little too overwhelming for smaller children. Fortunately, smaller sites like Xcambó and Mayapán are also open to the public and offer adults and children alike the opportunity to learn about the Maya in a less hectic environment. At about 50-80 pesos, tickets to these sites are also much less expensive than those at Chichén Itzá, which currently cost over 500 pesos per person.
Discover Paseo de Montejo the easy way
Mérida's Paseo de Montejo is one of the city's main tourist attractions and is lined with magnificent mansions, museums and restaurants. But as children are notoriously disdainful of long hauls, a leisurely walk down the famous boulevard may be out of the question. Fortunately, carriages both electric and horse-drawn are there to make this outing a lot easier. The cost for either option is 400 pesos, and each carriage comfortably seats up to four people.
Cycle along the Bici-Ruta
Another great way to experience the Paseo de Montejo is on a bicycle, especially on Sundays when traffic is closed to motor vehicles. There are several shops and types of bikes for rent, including tandem bicycles and tricycles, as well. Prices vary, but are usually more than reasonable. If your little one gets cranky or a little too hot, consider getting them an ice cream from one of the several vendors lining the avenue.
Play at Parque de las Américas
In the elegant García Gineres neighborhood, Parque de Las Américas has something for everyone. There are plenty of games for kids, as well as bouncy castles and food stands to choose from. The park is divided into four sections made up of an amphitheater, which hosts events in the evenings (especially on weekends), the José Martí library and park, the kids' park and the impressive neo-Mayan fountain.
Give back by donating to a local children's charity
Giving back to the community by donating toys, clothing or other necessities to children's charities is a great way to spend a day helping foster empathy in kids. Consider having a talk with your children about what they think kids in Yucatán need the most and then consider taking them out to the market to pick up a few items and then donating them to one of the many reputable children's charities in the city — such as Estancia Infantil Nueva Vida or the local Salvation Army.
Story time at the Mérida English Library
The Mérida English Library has a wide selection of books in English for children, so you are sure to find something your kids will enjoy. If you are feeling more ambitious, you may also want to consider picking up a book in Spanish and get started on learning a second language. The library also hosts a wide range of events, many of which are great for children. Make sure to check out their upcoming events on their website.
There are of course many more kid-friendly options in Yucatán. Some other popular activities include exploring cenotes, visiting traditional city markets, and exposing your kids to new foods in one of Mérida's many great Yucatecan restaurants. Send your suggestions to me at carlos.rosado@rooftcatmedia.com.
Kanasín students learn and have fun on the Jurassic Trail
ByYucatan Times on July 15, 2022
Progreso Mayor Julián Zacarías Curi received the municipal president of Kanasín, Edwin José Bojórquez Ramírez; who accompanied 300 elementary school students from the Escuela "Kaanbal Yéetel Báaxal" (Learn and Play) to Chicxulub's "Jurassic Trail".
(TIMES MEDIA MEXICO).- The reception of the students was in charge of the Jurassic Friends, who divided the kids into groups and took them on a tour of prehistoric times, as well as the turtle tank that is inside, explaining in a fun and amazing way how they care of the turtles.
Zacarías Curi indicated that the Kanasín City Council supported summer courses in his community in order to motivate students to be interested in history and science during the holiday season.
The children were brought to the Jurassic Trail as a surprise and a special prize for their good grades and good behavior.
"Here, in addition to having fun, you will have a unique learning experience about the events that changed the history of our planet", mayor Zacarías Curi said.
He recalled that a few days ago, the Progreso City Council signed an agreement with the Yucatan Ministry of Education so that schools across the State can visit the facilities of this theme park free of charge, with the objective of becoming a space for information and scientific dissemination.
For his part, the mayor of Kanasín, Edwin José Bojorquez Ramírez, pointed out that these types of actions are motivating for the young students and their educational training. This place may even influence some of the children in order to become scientists in the future, and at the same time, they are having fun and acquiring knowledge of the prehistoric era.
The Yucatan Times