Julian Zacharias Curi Office: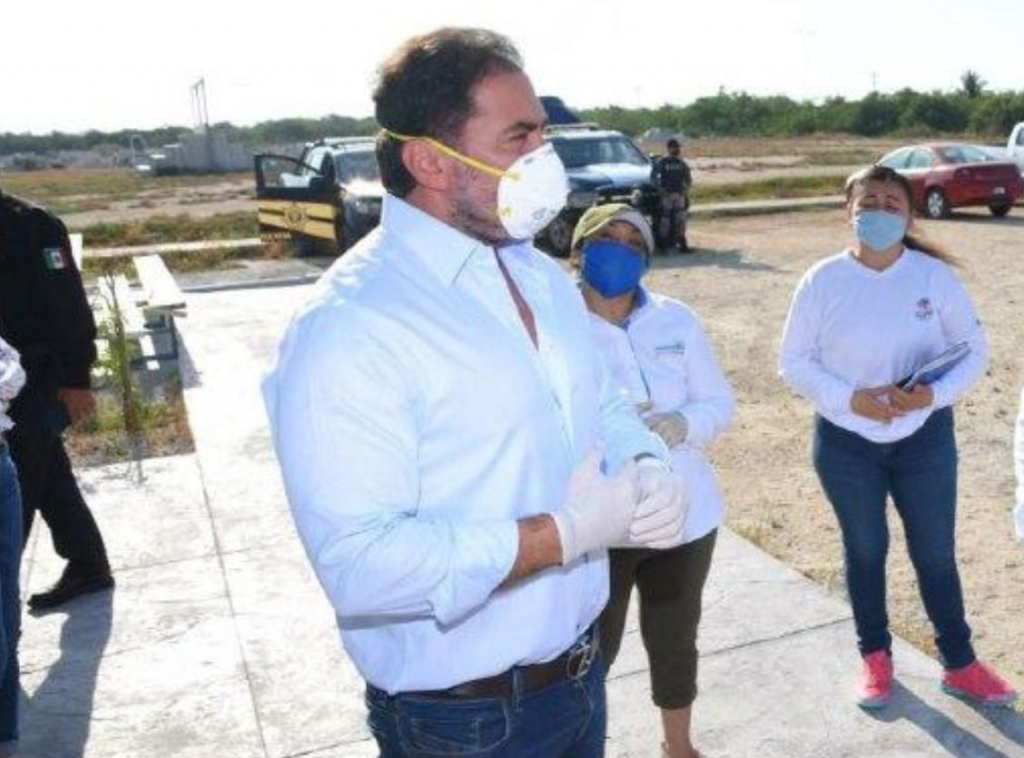 May 4, we begin the 2nd round of dispensas sent by Governor Mauricio Vila. It is important to follow this protocol.
1 Identifies the State Government and City Council teams.
2 Use face masks.
3 Present your INE or official identification, this is required to keep a check and that no house is missing.
4 Answer brief questions from City Hall staff.
5 Allow photos to be taken for delivery verification.
Finally, for all those who have stable economic situations I ask that you refrain from receiving aid and donate it to benefit citizens who really need it. #ProgresoParaTodos
May 5th
The mayor of Progreso, Julián Zacarías Curi, decreed a "curfew" in the entire municipality starting this Tuesday, from 7 pm to 5 am the next day. The Town Council approved this measure in a session that took place this Monday.
In a live broadcast from his Facebook account, the municipal president announced the measures approved in the Town Hall session.
According to him, the measure is to reduce mobility. The action will be in effect until May 18. During this time, the traffic of private vehicles will be restricted throughout the municipality, as well as pedestrians. Everyone will have to stay in their homes. Vehicles and citizens found on public roads will be sanctioned.
May 6th: the first death from the Covid-19 coronavirus was registered in Progreso, Yucatán; the victim was a 58-year-old man from one of the colonias on the west side of Progreso.
May 7th: a temporary shelter for people living on the streets was officially opened Thursday by Mayor Julián Zacarías Curi. The hostel was established in an unused CENDI community center.
The facility is open to homeless people in Progreso and its satellite communities, including Chelem and Chuburná. It accommodates 50 residents.
The primary intention of the shelter is to protect people who cannot take shelter during the coronavirus lockdown.
May 14th: Automotive, aerospace sectors to reopen Monday in Yucatán
Aerospace, aeronautical and automotive factories in Yucatán will resume operations on Monday, announced Governor Mauricio Vila Dosal, who said necessary hygiene protocols in this sector have been put in place to safeguard the health of workers and the public in general.
Next up will be the construction industry, which will work on developing and implementing sanitary protocols in order to reopen on June 1.
May 15th from the Canadian Consulate: COVID-19: Measures taken by the state of Yucatan
• Greetings between people is prohibited.
• The use of masks in public spaces and public transports, including taxis, is mandatory.
• Many public and private spaces are closed, including beaches.
• Airports remain open. Sanitary filters are in place at the Merida airport.
• All schools and universities are closed.
• Nonessential work activities are restricted and many businesses are closed
• Only 1 person is allowed in private vehicles (state-wide).
• Curfews are in effect in the cities of Temozón (10:00 p.m to 05:00 a.m.), Izamal (9:00 p.m. to 05:00 a.m.) and Sucilá (all day).
• The streets in the downtown area of Merida are closed.
Update re corona virus in Yucatan:
Positive cases 1661 and deaths 139